With the performance market hotting up in the recent days, so many manufacturers are fettling with the engine and the suspension of their standard cars to make high performance variants.
AMG, M, Abarth, Mopar, Mugen and so many other performance brands are running from pillar to post to satisfy their clientele with some more POWER!
Audi is also looking at capitalizing this bhp frenzy wave by bringing in two performance  models in 2013. Quattro GmbH, Audi's performance division, has confirmed the launch of the RS7 Sportsback and Q3 RS in 2013.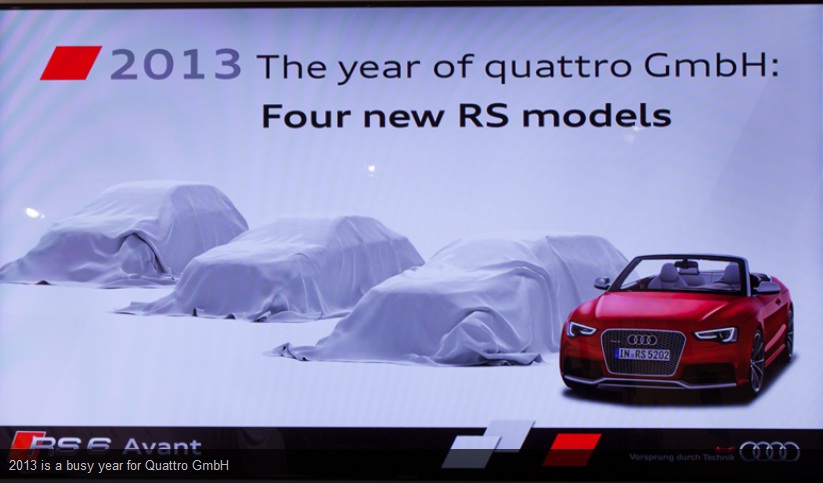 Audi recently took the wraps of the RS5 cabriolet - the fourth model in the existing line up of TT RS, RS4 Avant and RS5 coupe. This monster is powered by a  4.2-litre V8 that sends 444 bhp to all four wheels via a dual clutch transmission. The RS5 cabriolet hits 100 km/hr in 4.9secs, 0.4sec slower than its hard-top sister.
The next in line was the Audi RS6 Avant which is powered by a 4.0L, twin-turbo, V8 TFSI motor developing 560 hp and a monstrous 700 Nm of torque. It can accelerate from zero to 100 km/h in a best-in-segment 3.9 seconds.
The RS7 Sportback was spied by Doches.blogspot.com. The car will be powered by the same engine as the RS6 so expect the power and torque figures to be the same. But whereas the RS6 will hit the electronic nanny at 250 km/h, the RS7 will keep on pushing till it hits a positive side of 305 km/hr. The RS7 is expected to make its debut at the Detroit Motor Show.
The Concept version of the Q3 RS was show at the Beijing motor show in April. Audi plans to put it into production by the time we reach Geneva Motor Show. Expect the TT RS's 2.5L engine to do its duty in the Audi Q3. Power should be around 355bhp.
[Source: Carmagazine.co.uk , Spyshots : Doches.blogspot.in]