Will be powered by a diesel hybrid powertrain.
Ahead of its unveil at the 2015 Detroit Auto Show, Audi had announced that the second generation Audi Q7 SUV would come with a diesel-hybrid option, although they didn't divulge anything further on the engines.
At a presentation of Audi's Ultra range, a picture of a slide detailing the upcoming Q7 hybrid surfaced, revealing new details. According to Motor.es, the Audi Q7 e-tron Quattro will come with a 258 hp 3.0-liter V6 diesel and an 128 hp electric motor. Total power on tap is 374 hp, making it the most powerful variant in the range (until the reported RS Q7 comes along). It enables the Q7 e-tron to sprint from 0-100 km/h in 6 seconds flat
The Q7 e-tron is also more fuel efficient and environment friendly. Audi, as per the slide/report, claims that it will return a fuel mileage of 58.8 km/l, and CO2 emissions of less than 50 g/km, thanks to the hybrid powertrain and lightweight platform.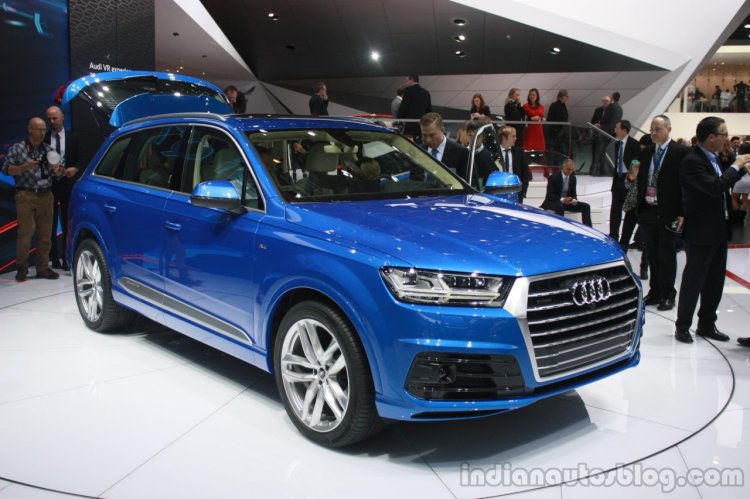 The report adds that the Q7 e-tron can run on pure electricity for 57 kilometers, till the diesel engine kicks in. The batteries can be charged up via a conventional plug-in electric socket, or through an onboard energy recovery system. Audi haven't specified the charging times of the batteries yet.
Also Read: 2016 Audi Q7 continues testing in Mumbai
Also not divulged is the pricing of the Audi Q7 e-tron Quattro, which is expected to be significantly more than the conventional variants. Expect to hear more about the Q7 e-tron in the coming months.
[Source: motor.es]