The Audi Q3 S is the locally assembled, cut-price Q3 for those on a budget. As Indian Autos Blog reported first, Audi India will be calling it the Q3 'S' and the launch will take place on August 19.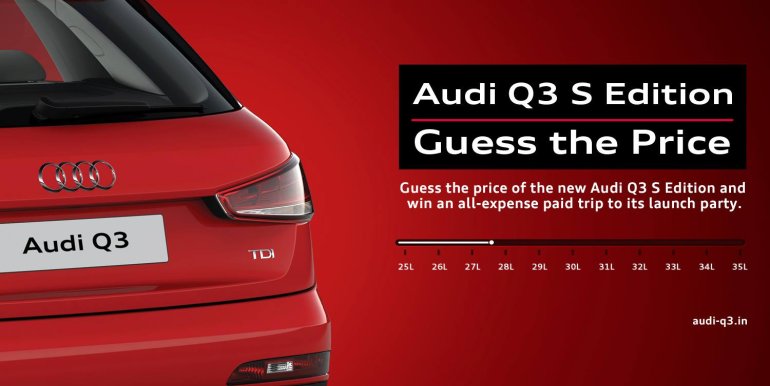 We notice that the company has started its marketing initiatives for the Q3 S. A contest and a website are up and running with this regard. Audi India says -
It's an Audi at a never-before price. Guess the price of the all-new Audi Q Series SUV and win an all-expense paid trip to its launch party.
When you head to their website, you notice the screenshot below. The lower price range starts from 25 lakhs and it is at this price that we think the Q3 S would be launched. Now for some reading in between the lines.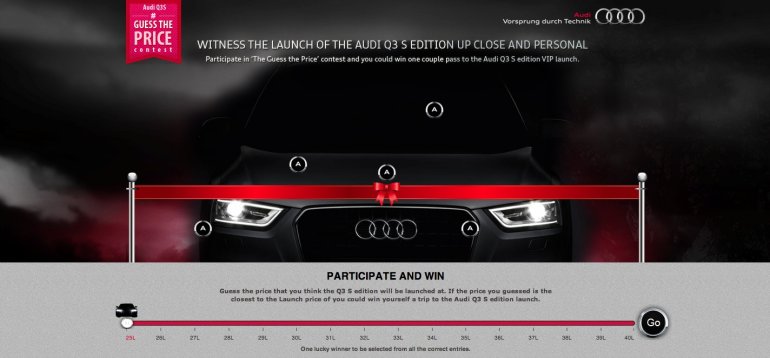 Audi specifically says -
"Guess the price that you think the Q3 S edition will be launched at. If the price you guessed is the closest to the Launch price two of you could win yourself a trip to the Audi Q3 S edition launch."
Notice that the company is specific to mention 'launch price'. This is what we think Audi India would do. The initial lot of Q3 S (maybe up to the first 500 units in our guess) would be offered at a very competitive price and this price would later increase once the company exceeds their initial expected bookings.
Having a 'launch price' (or even a launch edition for that matter) is not something new. Question is, how aggressive is Audi willing to price the Q3 S?