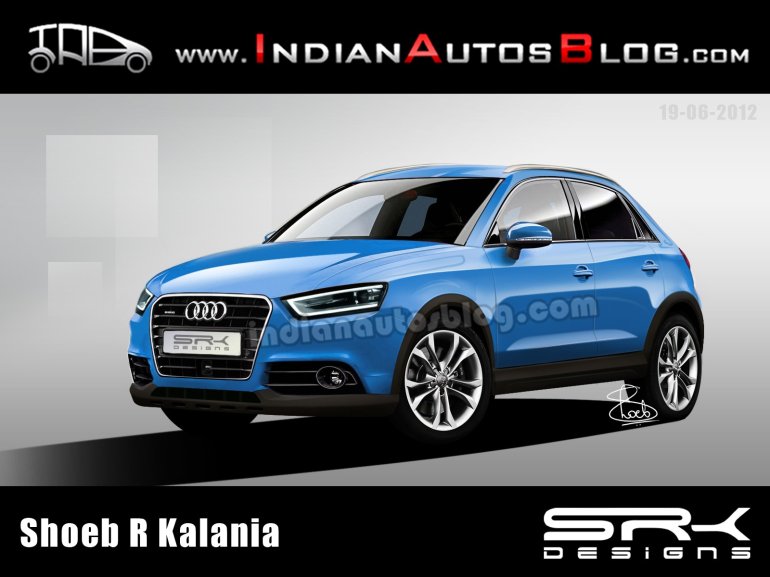 Isn't the Audi Q2 a perfect mix of class and mass?
Audi is planning another member in its Q family after it took the bull by the horns with the launch of the Q7, Q5 and recently the Q3.
The Q2 will be a tad smaller than the Q3 but will still be a full-fledged mini SUV, a top Audi India official recently told Indian Autos Blog. It would be placed in a segment somewhere between Q3 and X1 to rival the Mini Countryman.
The Q2 is said to be based on the next generation Audi A1's platform which in turn utilizes the very flexible Volkswagen MQB.
As one can take note from the rendering, the lines are similar to the Q3 and Q5. The sloping roof, very tight character lines and the imposing grill are the right ingredients to make this small SUV look very menacing.
A three-door concept, as a prequel to the Q2, would be revealed at the Paris Motor Show in September, where we will get to know the exact details. Production could start by 2014, but only in the five-door configuration, according to one report on Autocar UK.
Engines could be the same as those motoring the current A1, which include a 1.4 TFSI and a 1.6 TDI. Audi India would look for a good chunk of locally manufactured components to be able to price this car well and still be profitable. This will be after bringing the car in as a CBU model and testing the waters.
Audi India feels that the Indian market is yet not ready for a premium hatchback. The Q2 would make more sense as it is an SUV with a premium hatchback's footprint. It has the aspirations of an SUV, while being a car easy to drive through urban areas. Because of its diminutive size, its fuel economy should be good, and since its an entry-level vehicle, its price should be under 20 lakhs. The smallest Audi is ticking most boxes at this point.
Audi would also want to see if they can make India an export hub for the smallest member of its crossover family. Land Rover is planning to do just that with the next gen Defender that will compete with variants of the Q2, the Q3 and the BMW X1.