Second gen Audi R8 V10 Plus launched at INR 2.55 crores (Ex-showroom).
Audi is one of those very few brands that manages to stay in the upper echelons of automotive innovation over the years; adding weight to their famous German tagline "Vosprung durch Technik", which translates to "advancement through technology".
They're not a brand that banks on extravagant flamboyance, but rather keeps everything simple and understated. Look at the Audi RS 6 Avant for instance. The unassuming estate can seat five occupants comfortably and can haul a day's worth of shopping, while demolishing most entry level supercars on a straight line. The new Audi Q7 may look like an SUV for gobbling long miles or to simply cruise around the posh part of town without looking out-of-place, but the sophisticated Quattro AWD and its air suspension systems can easily get you out of a bog, should you somehow stumble into one.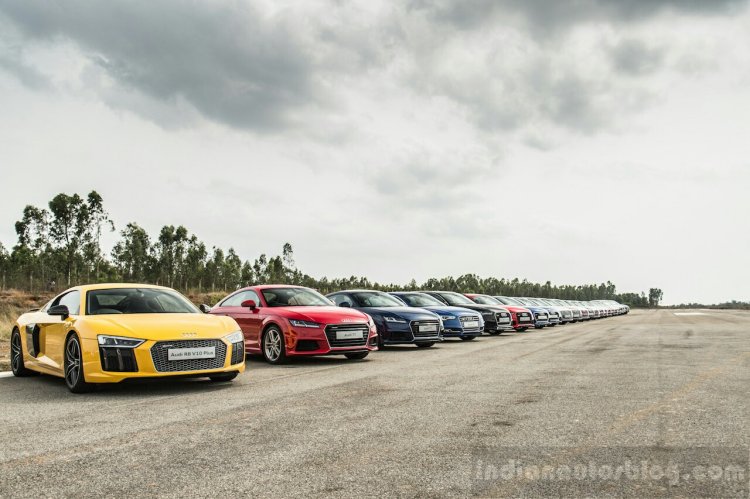 The Audi R8 however is one of their biggest exceptions. There is no better image builder for the Ingolstadt-based manufacturer than their first mid-engined supercar and, apparently, Iron Man's choice of vehicle. It proved to the world that Italians aren't the only ones who can build fast and exciting supercars with character and pizzazz, while managing to undercut their prices in the market.
Until now, I've only experienced the entry level Audis and the bigger Audis for very brief periods. So you could imagine my excitement when we received an invitation from Audi India to drive not one, not two, but the ENTIRE range in one day. And at the peak of the crescendo was the first media drive of the India-spec 2016 Audi R8 V10 Plus on an empty airstrip - a mid-engined supercar with a top speed of 330 km/h. Dreams do indeed come true, readers.
Audi RS 7 and 2016 Audi TT acceleration runs
After the invited people were divided into batches, we were assigned to the Sportscar Experience where each driver got an opportunity to drive the Audi RS 7, Audi RS 6 Avant, Audi S5 and the new Audi TT on an empty airstrip.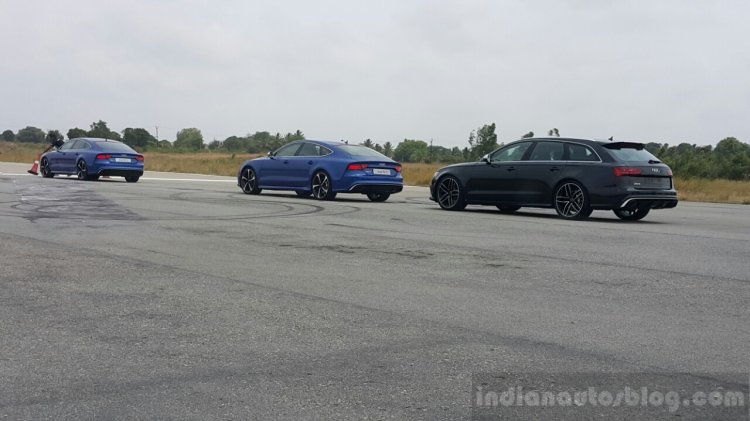 I decided to go for the Audi RS 7 Sportback first. Powered by a 4.0L Twin Turbo V8 with 560 hp and 700 Nm of torque, it sounds like a car that's a handful on paper. Thanks to the quattro AWD and active suspension system, the RS 7 took off the line with intense vigor. And what's hard to believe is that you're cocooned in the RS 7's opulent luxury, whilst watching the speedometer needle effortlessly race to over 200 km/h. It was indeed a thrilling experience to start off the event.
Next up was the all new third gen Audi TT. I was looking forward to driving the new TT for a long time, but this particular experience was underwhelming. It's definitely not the TT's fault, but rather the fault of the Audi RS 7, as we directly jumped from a 560 hp V8 monster to a small 2-door hairdresser's coupe with a 2.0L TSI engine that produces 230 hp and 370 Nm of torque.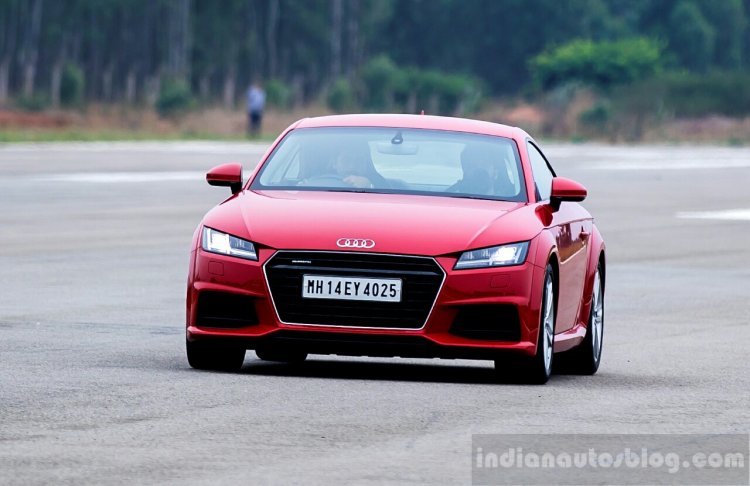 Regardless, the driver sits low and laid back for a comfortable seating position, and the aggressive upshifts emanates a delightful crackle which collectively suggest that it's a fun little car to drive around India's ghats.
Audi Q7 off-road experience
So far, whenever the words "SUV" and "off-road" come into my mind, the first thing that pops up is the Range Rover. However, this off-road experience has proved that there are less expensive luxury SUVs out there that can give established off-roaders a run for its money.
[Youtube link]
Above is a short video that perfectly details the off-road track Audi had laid out for us. My choice of vehicle was the all new Audi Q7 which managed to emerge out of all the obstacles and undulations quite effortlessly.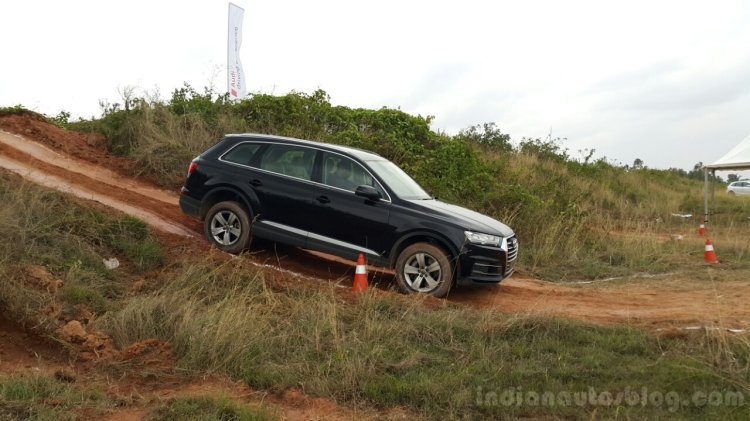 Thanks to the torquey 3.0-liter TDI unit, the Audi Q7 had enough power sent to all four wheels via the Quattro system to tackle the rough terrain and uphill climbs.
2016 Audi R8 V10 Plus First Drive
And now we come to the 'piece de resistance' of Audi India's range - the all new 2016 Audi R8 V10 Plus. After a brief tete-a-tete with the Lamborghini Huracan LP610-4 quite a while back, I was very much looking forward to Audi's iteration of the 610 PS monster.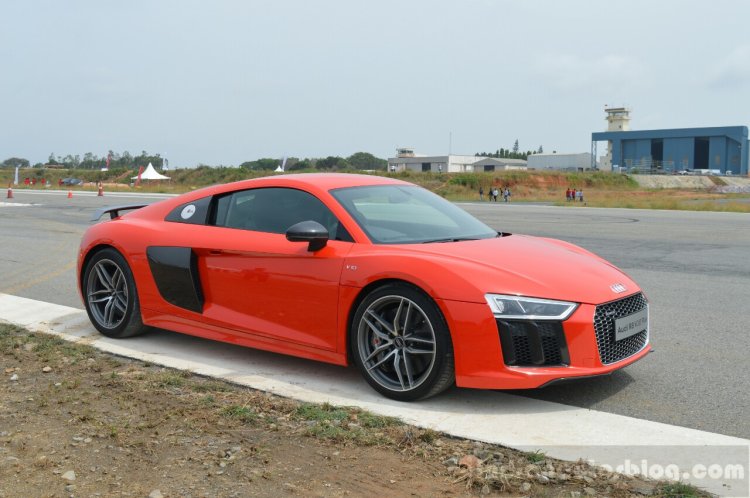 The styling of the new R8 is now more angular and aggressive than before, which is in line with Audi's latest design language. It's still a familiar design, yet looks slightly more contemporary than the outgoing model. The 2016 R8 is also 50 kg lighter than the previous model, thanks to the new Space Frame monocoque that integrates aluminium and carbon fiber in its construction.
The interior however has been completely redesigned. Similar to the Lamborghini Huracan, the Audi R8 shifts its entire infotainment system and navigation services to the new Virtual Cockpit instrument display, which has a crisp display with smooth graphics. Audi has ditched the entire center console and mounted the HVAC controls on the flowing dashboard. The controls themselves have an interesting design, which highlights simplicity.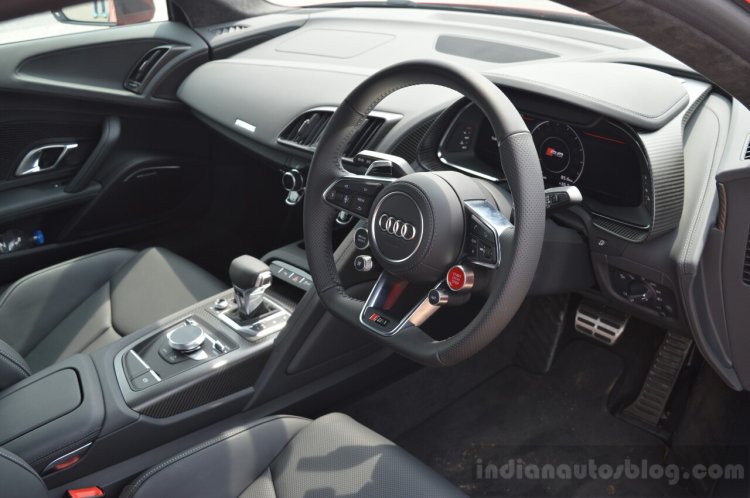 Like most of the latest supercars, Audi has integrated many of the controls on the steering wheel, although it has regular indicator stalks, unlike a Lamborghini Huracan or a Ferrari 488 GTB. It's definitely a nice place to be in, and everything is put together with supreme levels of craftsmanship and build quality that you'd normally find in an Italian supercar.
What is sure to make the Audi R8 an iconic legend in the years to come is its naturally aspirated 5.2L V10 engine. It's one of the last mid-engined supercars in the market that sticks to the traditional N/A route, while most manufacturers have adopted turbocharging. We drove the R8 V10 Plus, which has the 610 PS V10 engine plucked straight from the Huracan, and is paired to a fantastic 7-speed S-Tronic gearbox.
[Youtube link]
As you would've seen in the video above, the 610 PS engine and the weight saving has transformed the Audi R8. Setting off from standstill in Launch Control enables the R8 to sprint to 100 km/h in just 3.2 seconds which, in reality, translates to a kick in the chest followed by an intense rush of adrenaline as the car effortlessly crosses 240 km/h. It's no wonder that I couldn't speak in the video - I was lost for words.
Sadly though, we could only experience the straight line acceleration of the all new R8 V10 Plus in this event, which was in itself pretty impressive. We will soon find out what it's like to drive on Indian roads when we get our eager hands on one, and see whether it's a much better alternative to the likes of the Porsche 911 Turbo S or the Lamborghini Huracan LP610-4.