With BMW and Mercedes gearing up with modern products like 4 Series coupe and CLA 45 respectively, the third German giant has decided to launch the Audi A3 Cabriolet to fight off the competition in the upcoming Frankfurt Motor Show.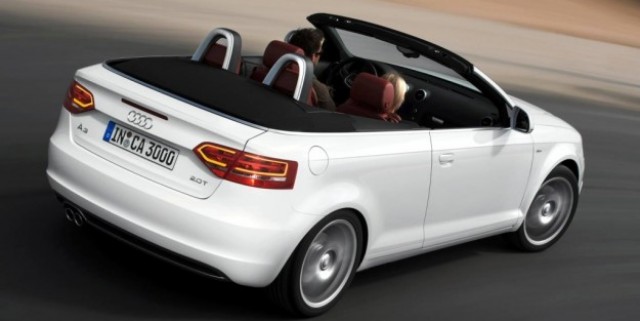 The A3 has always been a well-proportionate car with decent performance and nippy character and the cabriolet look no different either. The car is based on the Volkswagen Group's MQB (Modular Transverse Matrix) platform.
It is obvious that the A3 cabriolet will be more sharp and stylish than the outgoing model but it is also prominent that the cabriolet will be a look-alike of the A3 sedan. LED-treated headlights and Audi's traditional hexagonal grill are set to characterize the front fascia of the new cabriolet. A fabric rooftop and dual exhaust setup is likely to go onboard as well.
The engines will be derived from the A3 line-up with the likes of smooth, refined and powerful 1.8 TFSI and 2.0 TFSI variants on the avail. Special plans for a much more mean and powerful RS3 Cabriolet could also be under consideration to rival Mercedes's AMG and BMW's M models.
The Audi A3 marks 20% of the Audi's total sales and therefore this new A3 Cabriolet is a very important new model for the brand's reputation as a manufacturer of lifestyle products. After all it helps to have a few hotties in an portfolio that is largely populated by understated cars.
[Source: Caradvice.com.au]