Ather Energy has inaugurated its new showroom Ather Space in Chennai. The new Ather Space in Chennai is the second outlet of the electric two-wheeler brand after Bangalore.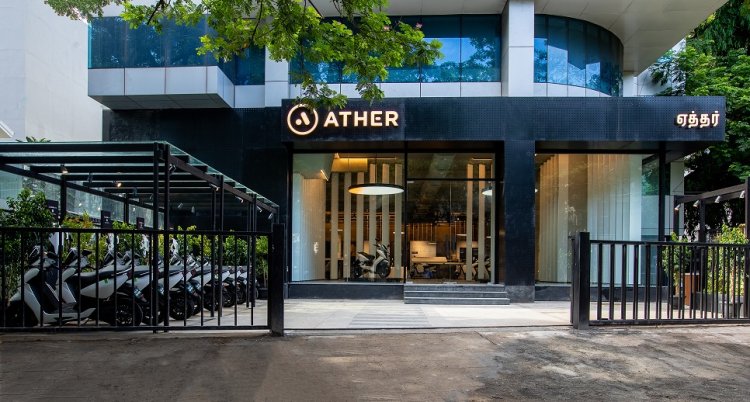 Also Read: Ather electric scooters to get a new Eco mode for improved range
Located at Wallace Garden Road, Nungambakkam, Chennai, the new Ather Space experience centre is twice the size of the first outlet in Bangalore. Ather Space would have display area along with a charging space to refuel the battery pack. Ather Energy says that the new experience centre's design and user experience has been improved based on the learnings from the Bangalore outlet.
Regular readers would know that Chennai is the second city in India to receive Ather Energy's electric scooters, the 340 and the 450. The Ather 340 retails at INR 1,19,091 while the more premium 450 is available at INR 1,31,683 – both on-road Chennai prices. In comparison, the 340 and 450 are available at INR 1,10,647 and INR 1,22,647 respectively in (on-road) Bangalore.
One of the factors for the higher price tag in Chennai is the 4% road tax that is levied by the Tamil Nadu government, which adds INR 5,246 to the Ather 340's price and INR 5,837 to the Ather 450's price. The company is also offering home charging point, 1st year Ather One subscription and unlimited public charging until December 19 along with the 450 as part of a limited period offer. The 340 does not get the home charging point. Instead, it comes with a charging cable. Ather Energy currently has ten fast charging points in Chennai.
The electric motor on the flagship product from Ather Energy, the 450, delivers 5.4 kW of max power and 20.5 Nm of peak torque. The scooter is claimed to accelerate from 0-40 km/h in 3.9 seconds, boasts a top speed of 80 km/h and delivers a 75 km (Eco mode). The relatively affordable Ather 340 packs a marginally lower power output of 4.4 kW and peak torque of 20 Nm. The 0-40 km/h acceleration takes 5.1 seconds while the top speed is rated at 70 km/h. The budget variant boasts a range of 60 km (Eco mode). Both, the 340 and the 450 come with selectable riding modes – Sport, Ride and Eco.
Check out the range based on the selected mode through the table below:
| | | | |
| --- | --- | --- | --- |
| Riding Mode | Sport | Ride | Eco |
| TrueRange | 55 km | 65 km | 75 km |
| Top Speed | 80 km/h | 65 km/h | 45 km/h |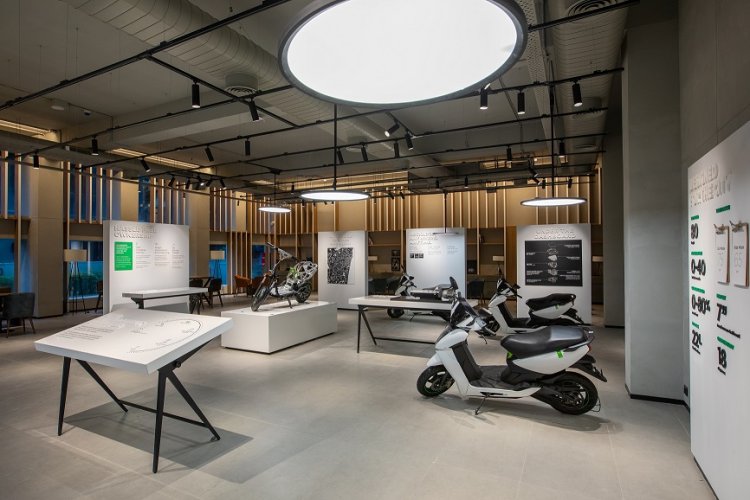 Also Read: Ather Energy working on a new affordable electric scooter
Apart from the Chennai launch, Ather Energy also announced its subscription plans earlier this month:
| | | | | |
| --- | --- | --- | --- | --- |
| Plan | Ather Connect | Ather Charge | Ather Service | Ather One Plan |
| Connected Service | Yes | Yes | Yes | Yes |
| Over-the-air updates | Yes | Yes | Yes | Yes |
| Vehicle Service | No | No | Yes | Yes |
| Public Charging | No | Yes | No | Yes |
| Home Charging | No | No | No | Yes |
| Price/year (excluding GST) | INR 3,000 | INR 6,000 | INR 6,000 | INR 8,400 |