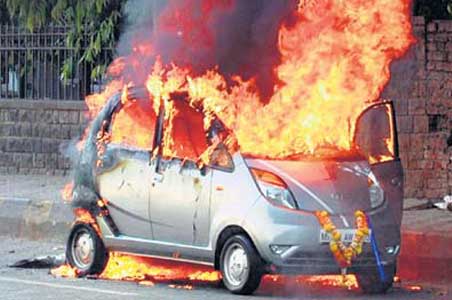 The Tata Nano is a hot property in Mumbai, literally
LATEST UPDATE - Tata Motors have ordered a probe into this case. Read more about it here.
After the initial flurry of Nanos emitting smoke from the steering column (read about the funny case) we assumed things were fine in camp Tata.
But not for long.
Insurance agent Satish Sawant took delivery of his Tata Nano in Prabhadevi, Mumbai. Since he cannot drive, the company organized a chauffeur to deliver the car home.
On his way back, a motorcyclist on the Eastern Express Highway while overtaking signaled something was wrong to the rear of his car. Sawant turned and noticed fire. He and the driver immediately jumped out of the car to safety.
Sawant had spent Rs 2.4 lakh on the silver Nano (MH03 AW 913). We assume this is the top-end Nano with Air-conditioning and power windows.
Satish Sawant -
I have no idea what happened. A motorcycle rider overtook me and told me that the vehicle was on fire. The engine was behind me and I did not realise that the car was on fire.
A fire tender arrived to the scene shortly thereafter and doused the flame. The Navghar police (Mulund E) have registered a case yesterday evening.
How reliable is the Nano is what we ask. The Nano is no doubt an engineering marvel, but wearing a price tag of the world's cheapest car doesn't mean it can compromise on passenger safety, which one takes for granted when buying a car. Should the Nano come with fire extinguishers as factory fitment? I mean, a brand new car that's done almost no kilometers can't burst into flames while moving, can it?
The biggest disadvantage of placing the engine at the rear is lack of proper cooling. Could this incident have happened due to the inefficient design of the cooling system? There is no reaction from Tata Motors. We expect something from them very soon.
Alert - We've covered the Tata Nano closer than any other newspaper/website/blog/magazine on the planet. For a complete list of posts on the Nano, visit the Tata Nano category page.
Tata Nano Image Gallery
If you cannot view the slideshow above, visit the Tata Nano Image Gallery directly.