Harley-Davidson has taken the wraps off its 2020 line-up. The range now includes a new Road Glide Limited, Low Rider S and a CVO Tri Glide. Besides that, a restyled Heritage Classic also makes way to the streets. The line-up, though, misses out on the Superlow, 1200 Custom and Forty-Eight Special, Electra Glide Ultra Classic, Ultra Limited Low and CVO Road Glide.
Here is all you need to know about Harley-Davidson's 2020 line-up:
2020 Harley-Davidson Low Rider S With promising power, agile handling, and enhanced rider control, the 2020 Harley-Davidson Low Rider S evokes pure nostalgia. The cool custom look is complimented with a blackened-out theme, including the frame and powerplant. The latter is the Milwaukee-Eight 114 engine (1,868 cc) producing 161 Nm of torque. However, the 295 kg kerb weight is a huge limiting factor. Paint options include Vivid Black and Barracuda Silver.
The fuel tank is an 18.9-litre unit and the seat height is a low 673 mm. Key features include cornering ABS, lean-sensitive traction control (with standard and rain modes), engine brake control, hill hold control and tyre pressure monitoring. The front suspension is a 43 mm upside-down fork unit, while the rear is a monoshock unit. Also, the Harley-Davidson Low Rider S has raised handlebar, mini fairing and a solo seat.
The 2020 Harley-Davidson Low Rider S features a cast aluminium wheels and dual disc in the front. The bike has a starting price tag of USD 17,999 (INR 12.85 lakh).
2020 Harley-Davidson Road Glide Limited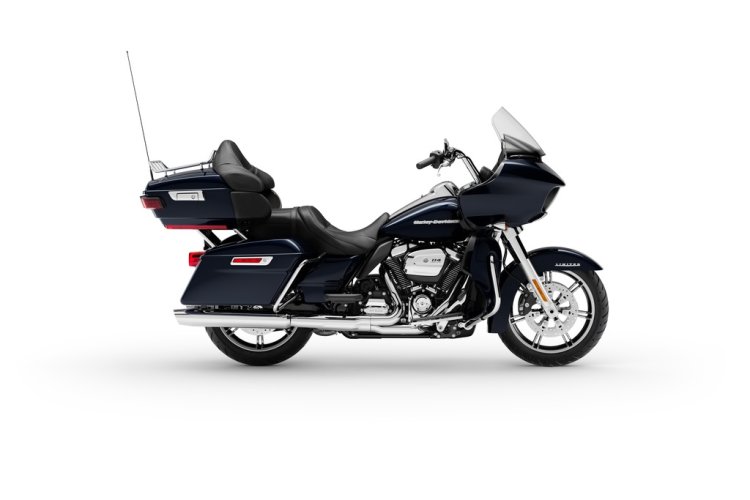 Replacing the Harley-Davidson Road Glide Ultra, the 2020 Harley-Davidson Road Glide Limited shows off premium painted pinstriping, gloss-finish inner fairing, heated grips and Slicer II Contrast Bright wheels. Also, it carries new badging on the tank, front and rear fenders. As on the old model, the frame-mounted shark-nose fairing is an eye-catcher.
The 2020 Harley-Davidson Road Glide Limited has LED headlamps, 12 colour options and an optional Black finish package. The latter includes Slicer II cast aluminium wheels finished in Gloss Black. The fuel tank, front and rear fender badging too have a Gloss Black fill surrounded by a Charcoal border. Also, Gloss Black powder coat makes its way to the powertrain, covers and exhaust plus footboards, handlebar, gauge trim rings, hand control levers, mirrors and foot controls.
Also, the bike is fitted with Boom Box GTS infotainment system with a full-colour TFT display. Powering the Road Glide Limited is the twin-cooled Milwaukee Eight 114 (1,868 cc) engine. The powerplant can produce 164 Nm of torque. This motorcycle's kerb weight is a high 423 kg. Its brakes have been sourced from Brembo.
The fuel tank can store 22.7 litres of petrol and the seat height is at an approachable 735 mm. Besides that, Reflex Brembo electronic linked ABS, which was previously optional on some Touring models, is now standard on all 2020 Touring motorcycles. The 2020 Harley-Davidson Road Glide is priced at USD 28,299 (INR 20.22 lakh).
Also Read: Tips for new motorcyclists
2020 Harley Davidson Heritage Classic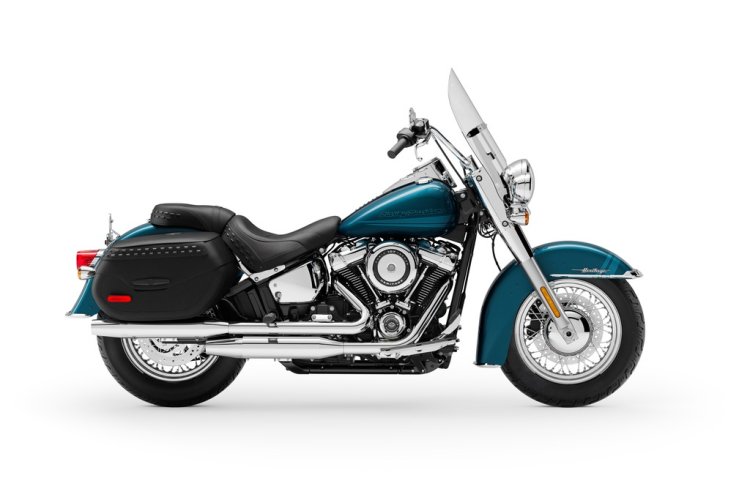 The blacked-out theme of the previous model has been replaced with signature gleam and sparkle of rich Harley-Davidson chrome. The bright powertrain with chrome air cleaner and covers is well complimented with chrome steel laced wheels, chrome headlamp bucket and auxiliary light buckets. The theme is continued over with bright fork legs, chrome fork covers, fender struts and side covers.
Colour options for the 2020 Harley Davidson Heritage Classic include Vivid Black, Billiard Burgundy, Silver Pine/Spruce, Billiard Red/Vivid Black and Tahitian Teal. Additionally, there's also a new Scorched Orange/Silver Flux scheme. Powering the 2020 Harley-Davidson Heritage Classic is the Milwaukee Eight 107 engine producing 147 Nm of torque. Besides that, the 2020 Heritage Classic is also available with a Milwaukee-Eight 114 engine with the model's original, blacked-out look. The output of this mill is 161 Nm.
The bike tips the scales at 330 kg and its seat height is 668 mm. Also, the fuel tank can store 19-litres of petrol. The 2020 Harley-Davidson Heritage Classic 107 's prices start at USD 18,999 (INR 13.58 lakh), while the Heritage Classic 114 is priced from USD 20,449 (INR 14.61 lakh).
Also Read: Top 5 concepts from Auto Expo 2016 that never made it to production
2020 Harley-Davidson CVO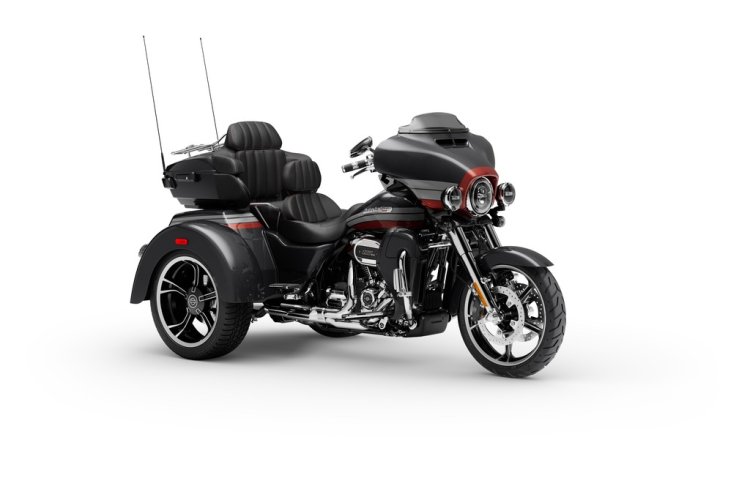 The new 2020 Harley-Davidson CVO range includes a new Harley Davidson CVO Tri Glide. Other offerings in the portfolio of limited-production, super-premium CVO motorcycles for 2020 include CVO Limited and CVO Street Glide.
Created for perceptive customers, CVO models offer show-stopping finishes, advanced technologies and exclusive components. The engineers have included signature Harley attention to detail that borders on obsessive, engineered and assembled to factory-quality standards. Powering the Harley-Davidson CVO range is the Milwaukee-Eight® 117 powertrain – the largest displacement and power offered from the house of Harley-Davidson. Displacing 1,917 cc, the engine churns out an Earth-shattering 169 Nm of torque.
Other main features include pegs, rider and passenger floorboards, heated grips and muffler tips from the Kahuna Collection of accessories, a carrier rack and dome light for the Tour-Pak and custom-fit luggage and trunk organizers.
The 2020 Harley-Davidson CVO Tri Glide replaces the Harley-Davidson CVO Road Glide. The company says that the Tri Glide is the most requested model for receiving the premium CVO treatment. Key features include Tomahawk Contrast Cut cast aluminium wheels, all LED lighting, a colour-matched fairing duct and a low-profile windshield. Also, the trike is equipped with a trimmed front fender, power locking trunk with interior lighting, heated seat covers, ventilator air cleaner and a CB radio.
The 2020 Harley-Davidson CVO Tri Glide is priced at USD 48,999 (INR 35 lakh). It is available in a choice of two premium paint options: Blizzard White with grey wheels and Black Stardust with gloss black wheels, both with special three-stripe graphic patterns.
Also Read: Harley-Davidson LiveWire teased ahead of India debut
Harley-Davidson Reflex Defensive Rider Systems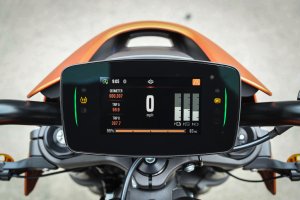 The Harley-Davidson Refle Defensive Rider Systems (RDRS) is a new collection of technology designed to match motorcycle performance to available traction during acceleration and deceleration. It utilises the latest chassis control, electronic brake control and powertrain technology. Besides that, RDRS features are standard on the 2020 LiveWire, Trike and CVOmodels. Also, it is available as an optional extra on all 2020 Touring models in the U.S. (except Electra Glide Standard models).
Also Read: 5 Made-in-India performance bikes spreading joy around the world