More than just a stripped-out and liveried family sedan.
Truth be told, being a racecar driver was a serious ambition of mine once upon a time. My mind had it all planned out; take my first steps in go-karting, engage in awesome rivalries and move up to bigger, more professional championships across the globe.
As the years passed by, that dream started to die as reality about motorsports started to kick in; taking up racing as a full-time career required immense amount money, time and talent. Not to mention, a strong platform required to showcase your talent to the world. If it were easy to enter professional motorsports in those days, almost every petrolhead like me would've done it.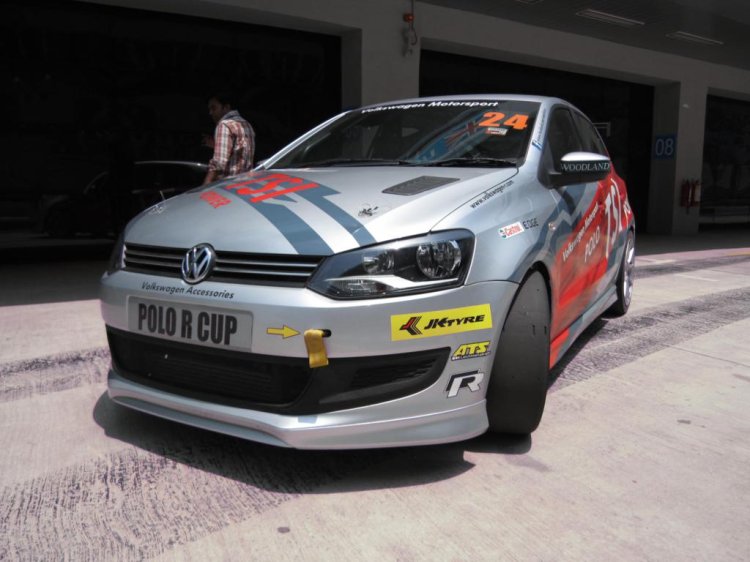 While that ambition died a long time ago, people still passionate about racing now have several platforms in India to choose from. The one that stands out from all is Volkswagen Motorsport India's racing program. Although people initially saw it as a marketing exercise, VW India's racing program is actually much more than that. It offers aspiring Indian racecar drivers the platform to showcase their talents on a national level, and top drivers are given opportunities to take part in more competitive international-spec motorsports through the program.
It was first introduced as the VW Polo R Cup Championship in 2010, where people got the chance to race in stripped-out diesel-powered VW Polos and make a name for themselves. In 2012, the VW Polo Cup cars ditched diesel power in favour of petrol power from race-spec TSI engines paired to 6-speed DSGs.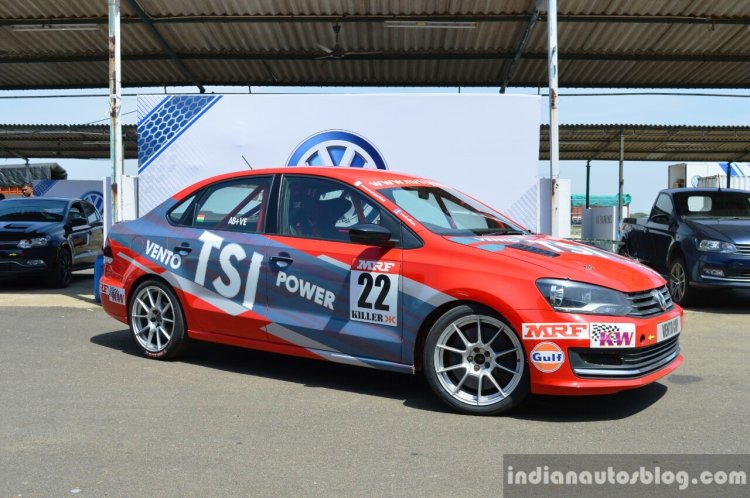 In 2015, VW Motorsports introduced the Vento Cup car, which carried over the same powertrain from the outgoing Polo R Cup. The same racecar is being used this season, albeit incorporating the facelift introduced in the regular Vento a year ago.
To give a taste of what could've been my career, VW Motorsports India invited IAB to a racing workshop with the 2016 VW Vento Cup racecar at the Madras Motor Race Track in Sri Perumbadur. Here's how it all went.
Before we get to the driving impressions, here are a few technical details on the VW Vento Cup Car's powertrain. It is powered by a 1.4-litre turbocharged and supercharged TSI petrol engine that outputs 180 PS at 6,200 rpm and 250 Nm of peak torque between 2000-4500 rpm. Power is sent to the front wheels via a 6-speed DSG.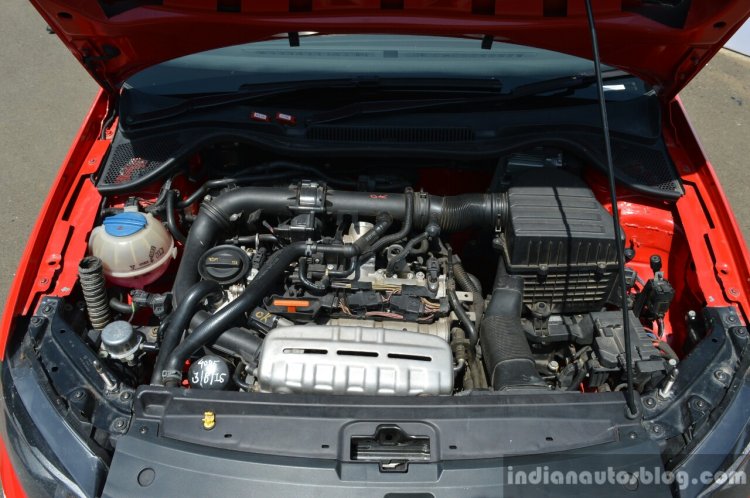 When you hear the term 'racecar', you expect sportier bumpers, flaring wheel arches, large exhaust tips, and fixed aero elements. However, the Vento Cup racecar, from the outside, looks barely any different from the production car. The sponsorship liveries, decals, 17-inch bright silver rims shod by racing slicks and visible roll-cage give away its actual identity.
If you're not acquainted with racecars, getting inside the Vento is a cumbersome process, especially if you're tall and fat as I am. The VW Vento Cup racecar comes with a roll cage welded into the chassis, which makes it around 30 percent stiffer than the regular car. With whatever little flexibility my body had, I somehow managed to get into the roll cage and onto this large OMP bucket seat with a 6-point safety harness that hugs as tightly as my mother.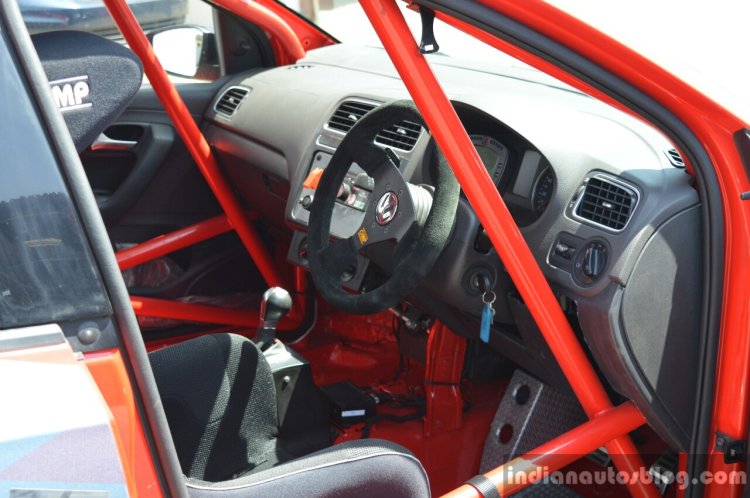 Fire up the motor, and your ears are greeted by a sonorous exhaust note expected from a racecar. The raw exhaust noise, the little vibrations that permeate into the cabin, and the low-slung seating position collectively convey that you're about to drive something that is much more than just a stripped-out and liveried family sedan.
Given that my experience behind the wheel of a racecar was not ample, I kept chanting the mantra "don't crash it" several times as I left the pitlane. We were scheduled to interact with Mr Sirish Vissa, Head of VW Motorsports India, after the bout, and I was keen to avoid explaining to him why the MMSC marshalls are picking bits of my Vento Cup Car from the track.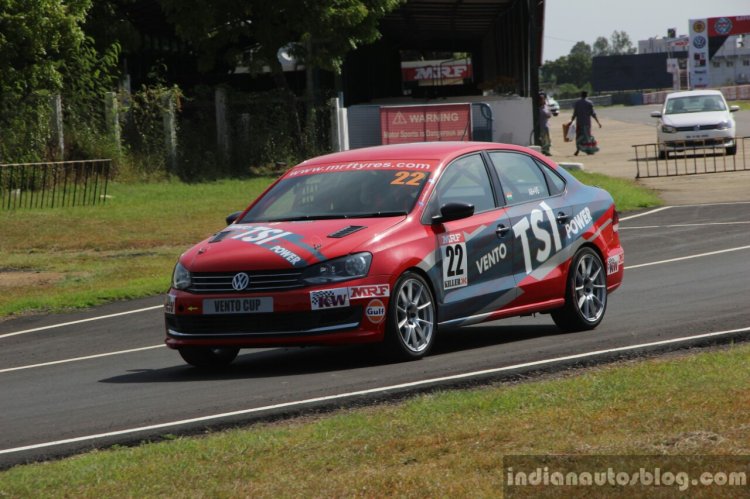 The first couple of laps were meant to build confidence required to push the Vento Cup car hard. You can even tell (metaphorically) that it is dropping suggestions like "brake later", "turn in harder", "pedal to the metal". So once I decided to give it the beans, the experience became rewarding. The surge of torque from the engine accompanied by the rasp exhaust noise spiked an adrenaline rush that made me forget the sweltering cabin or the tight racing bucket squashing my bottom. The performance is not overwhelming, yet it's enough to keep experienced racecar drivers excited.
Setting the gearbox into 'D+', the 6-speed DSG gives you full control over gear changes via the steering-mounted paddle shifters supplemented by progressive shift lights in the AIM Data recorder. Pull the right paddle and it serves up the next gear in the blink of an eye, although downshifts were not just as instant. Regardless, the 6-speed DSG didn't have me grumbling one bit; it's still a quick and responsive gearbox to play with.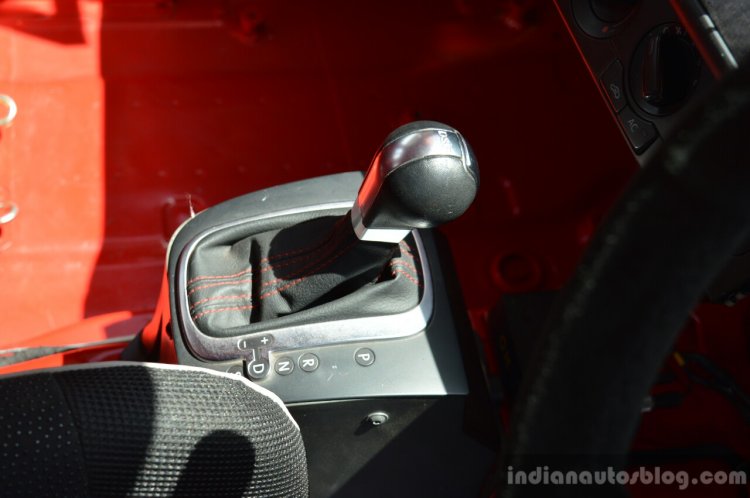 The Vento Cup racecar's suspension comprises of a race-spec, two-way adjustable setup from KW suspensions. Going over a bumpy apex is usually spine shattering in an outright racecar, but the Vento's suspension is set to offer some compliance, which is a good thing as it inspires confidence to hit the apex at high speed while leaving your spine in one piece.
Around tight corners at high speeds, the Vento racecar's MRF slick tires managed to stick to the racing line for the most part, yet you can feel the car tiptoeing between grip and understeer mid-corner. It is claimed to be an improvement over the JK racing tires used in the previous Vento Cup season.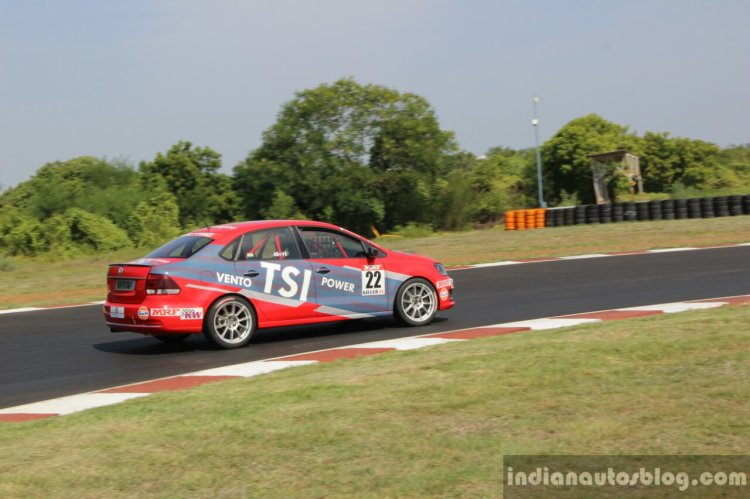 As for the electric-powered steering system, it offers the right amount of weight required to nail corners. For an electric-powered unit, it was surprisingly well set up. Stopping power comes from a set of disc brakes from all four sides supplemented by ABS. The brake pedal felt spongy under hard application, yet the robust disc brakes shed speeds quite rapidly before entering slow corners.
Five laps later, it was time to enter the pitlane and, sadly, say goodbye to the red Vento cup racecar. The only way I can spend much more time in a Vento Cup racecar is if I can manage to pony up INR 8 Lakhs (excluding taxes and safety deposit) to enter the program. For that amount, VW Motorsports will lend me the racecar for four rounds in a season, as well as cover the cost of tires, parts, maintenance and logistics.
However, it's not just whether one can afford a seat in the championship. It's also about possessing the talent to race, which is required during pre-selection held at various karting tracks across India. The fastest 30 drivers will be short-listed from each of these venues and invited to the finale at a chosen karting track. Here, top 20 drivers will be selected to pay INR 8 Lakhs to enter the VW Vento Cup.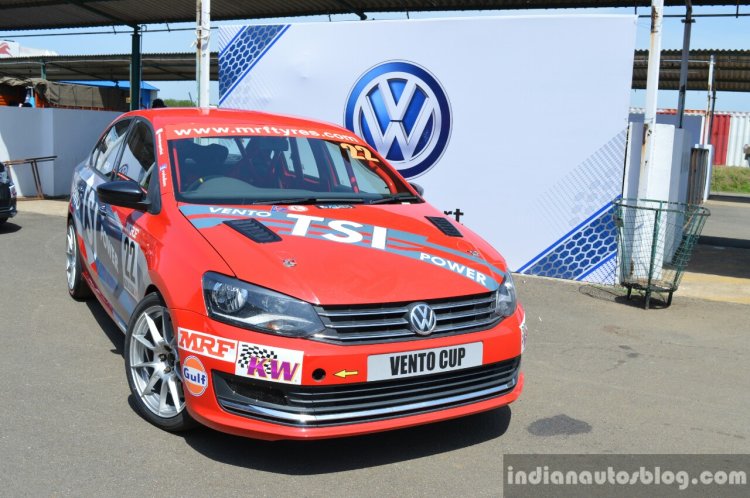 And it's indeed a rewarding experience. If you turn out to be the best, VW will offer you an opportunity to race in Formula 1600 or international touring car championships. Else, you can walk away with the valuable experience of competing in a national touring car championship. Regardless, the VW Vento Cup championship is one of the best ways to fuel your passion for motorsports in India.