Plugs the large gap between Hyundai Creta and Santa Fe.
Most folks will remember the Tucson in its first gen guise, which represented Hyundai India's second attempt at pitching a mid-size SUV to the Indian market (first was the Terracan). This was back in 2005, when Hyundai's brand image wasn't as premium as it is today, hence buyers found it hard to fork good money for a Hyundai SUV. Sales weren't as strong as expected, and falling demand forced Hyundai to ultimately discontinue it about 6 years later. It even put them off from introducing the second gen Tucson.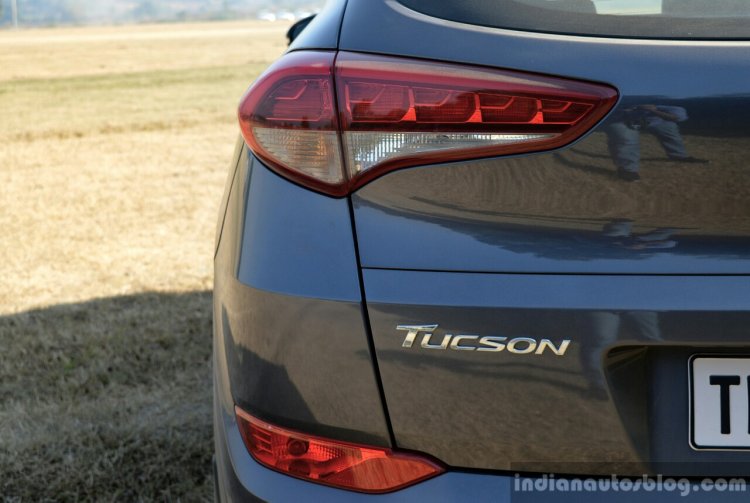 Fast forward to today, and almost every manufacturer is looking to capitalize on the booming SUV segment. Hyundai has already grabbed a good chunk of the segment with the excellent Hyundai Creta. However, people ready to splurge more money for a bigger SUV couldn't do so with the Korean brand. Of course, Hyundai does sell the large Santa Fe SUV in india, but it carries a costly INR 28.56 Lakhs (ex-showroom, base variant) price tag. Buyers are easily wooed by less expensive options from other manufacturers, like the Mahindra XUV500.
So Hyundai decided to plug the gap between Hyundai Creta and Santa Fe flagship by re-introducing the Tucson. Now in its third generation, the company believes that Tucson will set the benchmark in the premium monocoque SUV segment, and further refine Hyundai's brand image in the market.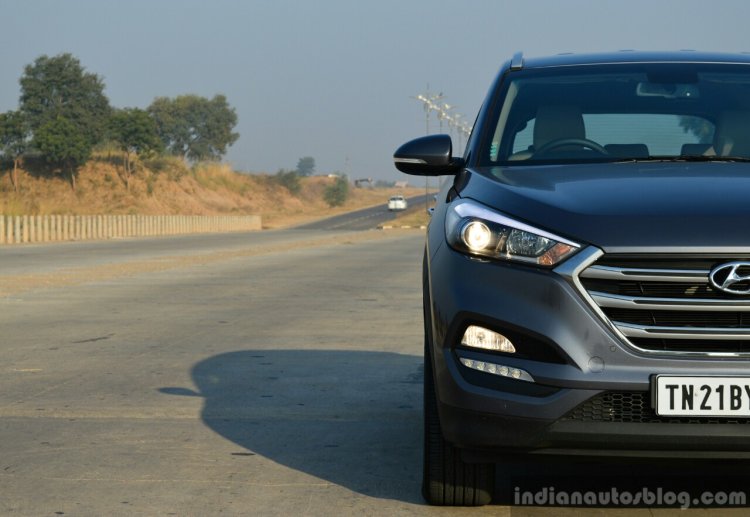 Seeing the new Hyundai Tucson at its world debut in Geneva as well as the national test drive in Chandigarh, one of its main highlights continues to be the dynamic exterior design. Thanks to Fluidic Sculpture 2.0, Hyundai is rolling out attractive products lately, and the Tucson is no different. At first glance, it looks like a slightly miniaturized Santa Fe, although there are fair few details that help differentiate the Tucson from HMIL's flagship.
The bold hexagonal grille flanked by swept-back headlamps impart a strong look to its face, the character lines across the profile add definition to its sheet metal, black plastic cladding around the wheel wells and bumpers look like it can take a beating off road, and the 18 inch set of diamond cut alloy rims couldn't match with the design any better. The diesel variant is made a touch sportier with chrome-finished twin exhaust pipes.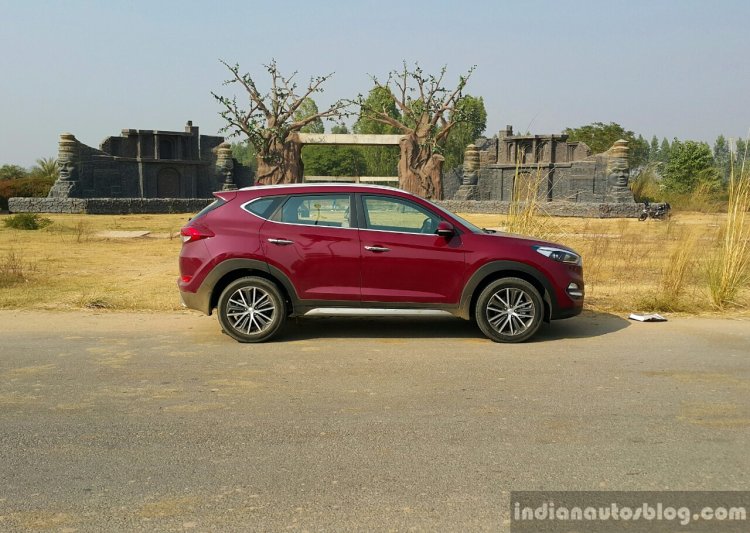 The Tucson's interior, however, doesn't match the dynamic design of its exterior. It's an inoffensive and ergonomic interior that is easy to get acquainted with. Build quality is fairly decent in the new Tucson; everything is well screwed together and feel robust, although the floor console and silver trim around the center console and HVAC vents feel a bit cheap.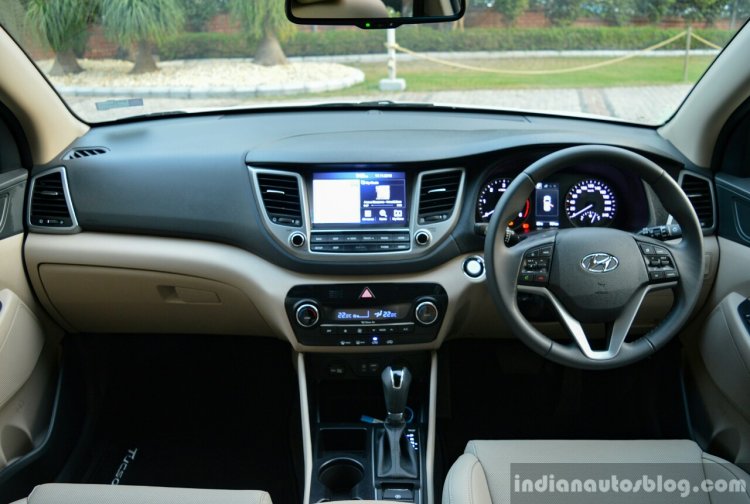 Hyundai rather wants your attention placed on the extensive list of features, practicality and occupant space. Elaborating further on the latter, there's plenty of space for rear occupants inside the Tucson. With the driver's seat set for my 6'2" large frame, there was good amount of legroom and plentiful headroom to spare. Even the leather-upholstered seats were fairly comfortable, offering good thigh support and option to manually recline. Three people sit abreast at the back, although the rear HVAC console and floor hump leave very little room for the middle occupant.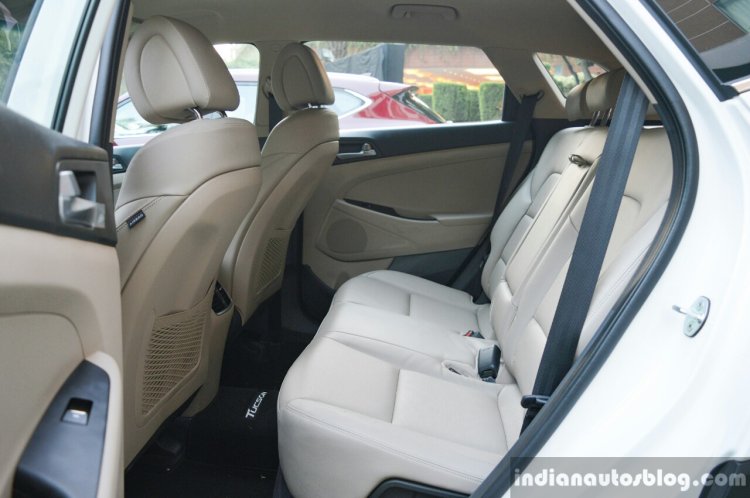 It's a practical cabin too. There is a decent number of bottle holders, cubby holes and other storage spaces in the Tucson, but we're impressed with the capacious 513L boot volume, which can be further increased by folding down the 60:40 split rear seats. For easier access, the Tucson features a power-operated tailgate with a hands free smart feature that automatically opens the tailgate if it detects the key fob within 3 feet for more than 3 seconds. However, the feature didn't work most of the time, so you'll have to be in luck if you're demonstrating it to your friends.
Typical of Hyundai, the Tucson comes with an expansive list of features enough to woo prospective buyers. The top-end GLS we test drove came equipped with dual-barrel LED headlamps, 18-inch diamond-cut wheels, electric parking brake with Auto Hold, 8.0-inch HD touchscreen system with Apple CarPlay and Android Auto, 6-speaker Arkamys audio system, front and rear parking sensors with reverse camera, 10-way power adjustable driver seat, keyless entry and go, dual-zone climate control, and heated ORVMs. We were surprised that it lacked a sunroof or ventilated front seats, which are otherwise available in the less expensive Hyundai Elantra.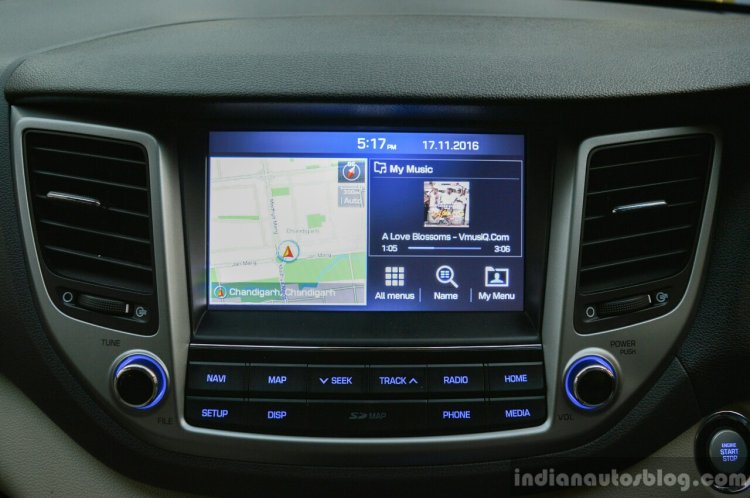 The Hyundai Tucson is available in petrol and diesel variants. We got to sample both variants at the test drive, and walked away impressed with only one of them.
The petrol variant is powered by a 2.0L four cylinder N/A petrol engine paired with a 6-speed auto or manual, which develops 155 PS at 6,200 rpm and a peak torque of 19.6 kg.m at 4,000 rpm. We had a go in the petrol AT variant, and straight off the bat it's clear that the Tucson petrol is meant to be driven in a relaxed and calm manner.
It requires a good bit of throttle input to rack up speed, gearbox downshifts quite often to maintain performance and engine gets a bit shouty past 5000 rpm with not much thrust happening. 'Exciting' is not the word to describe the Hyundai Tucson petrol, even when Drive Mode is set to 'Sport'. Otherwise, it's a refined and silent unit that feels more at home on city roads.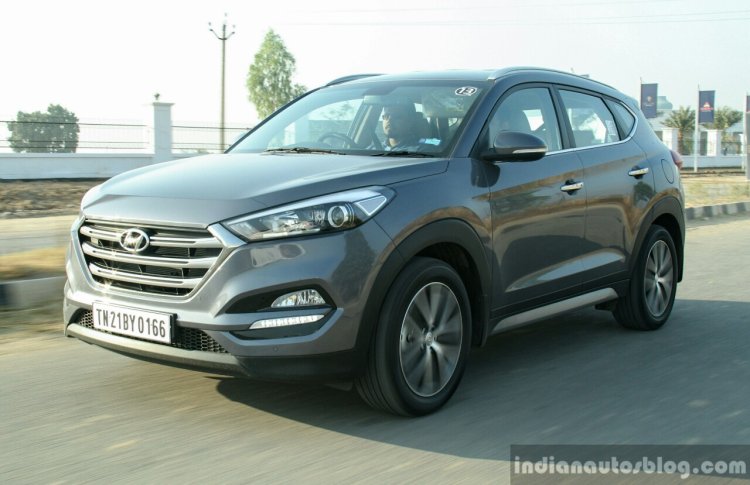 The diesel variant is powered by a 2.0L CRDi turbodiesel engine also available with a 6-speed manual or 6-speed auto, which produces 185 PS at 4,000 rpm and 40.8 kg.m at 1,750-2,750 rpm. There is plenty of torque at the lower-end of the power band, so acceleration from standstill is quick and linear.
Even in part throttle, the 6-speed automatic dumps plenty of torque on the front wheels, making overtakes on single carriageways an effortless and quick task. Hyundai has also done a great job of minimizing diesel clatter permeating into the cabin, with the engine only making itself faintly heard when you give it the beans.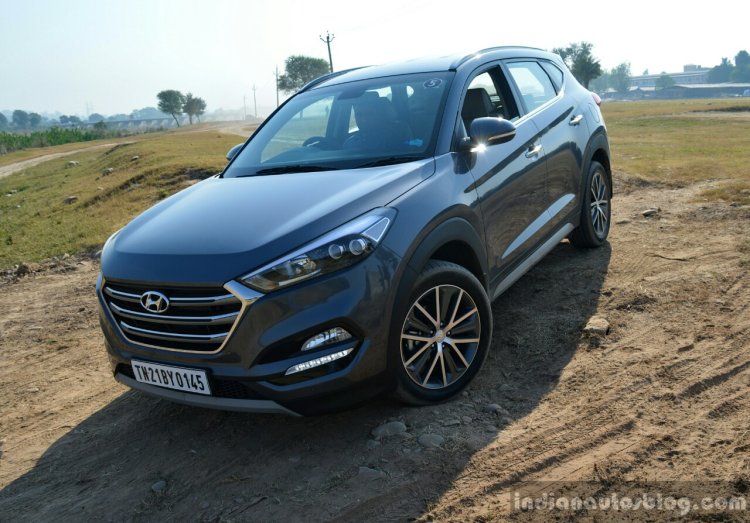 As for fuel efficiency, the diesel variant  is capable of averaging 18.42 km/l for the manual variant and 16.38 km/l for the automatic variant, while the petrol variant can average 13.03 km/l and 12.95 km/l with the manual and automatic gearbox, respectively. In our test drive, the trip computer of the petrol automatic variant displayed 8.7 km/L and the diesel automatic variant registered 11.6 km/L.
The Hyundai Tucson's ride quality is pleasant, ironing out most road irregularities with relative ease. Being a monocoque-based mid-size SUV with a relatively lower ride height, handling around corners feels very car-like, although it does exhibit a bit of body-roll.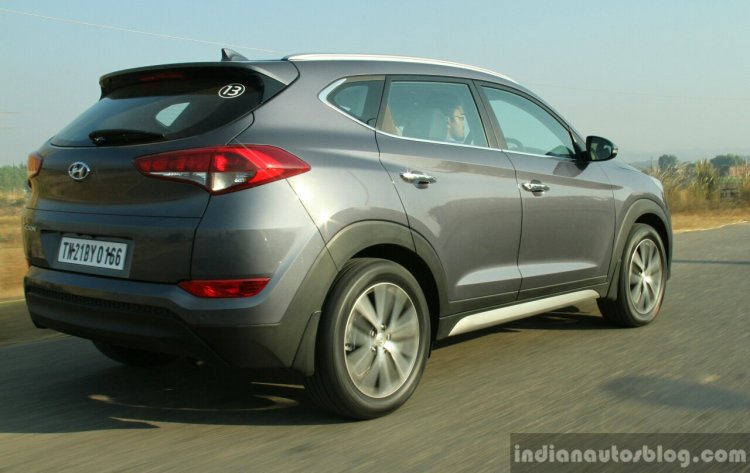 At high speeds, the body stability feels rock solid and planted to the road similar to a European car. The only grouse we have is with the steering wheel, which could've been more involving and communicative.
First Impression:
SUVs are taking the market by storm, so it's not surprising that manufacturers are looking at every opportunity to capitalize on it. Hyundai believes that the untapped premium monocoque SUV segment can yield good numbers, as products from said segment would appeal to buyers looking for great space, practicality, performance and a car-like driving experience.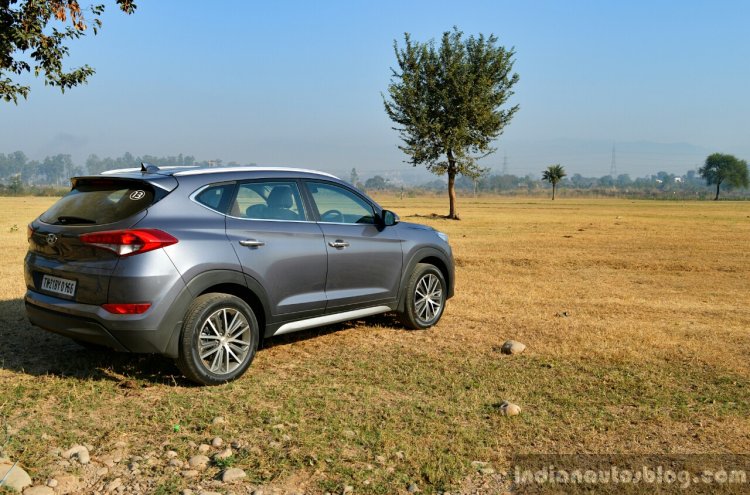 Priced between INR 18.99 Lakhs – INR 24.99 Lakhs (ex-showroom Delhi), the Tucson is an all-round SUV package that comprises of an attractive exterior design, comfortable and spacious interior with plenty of gizmos and a diesel powertain that packs a punch.
The important takeaway here is that it doesn't feel like an up-sized version of the Hyundai Creta; rather a better-looking and slightly smaller version of the Hyundai Santa Fe. So, if you're on the lookout for a 5-seat premium SUV with a budget between 18-30 Lakhs, and view ladder-frame-based SUVs like the Toyota Fortuner and Ford Endeavour as cumbersome, we recommend the Hyundai Tucson diesel.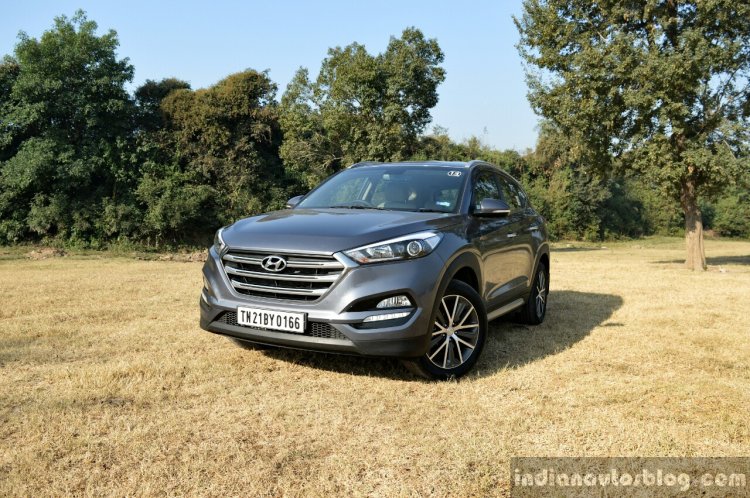 With its addition, Hyundai not only offers prospective customers a wider choice of SUVs than its rivals, but owners looking to upgrade from the Creta or Verna sedan can continue to stay loyal to the Korean brand (you're rewarded with a 1 year extended warranty).
2016 Hyundai Tucson Diesel - Image Gallery