The updated Ford EcoSport, which was introduced yesterday, takes on the Mahindra TUV300, which is the only other sub-4 meter SUV. In a classic comparison of ladder-frame vs monocoque, here's a look at how they fare on paper.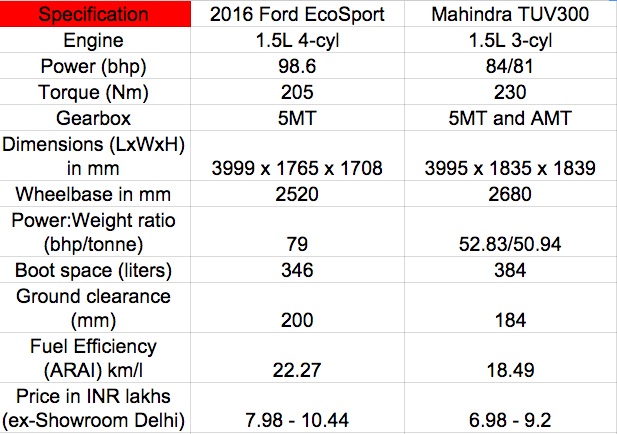 At 3,995 mm and 3,999 mm of length, its easy to see that designers and engineers of both companies have tried to make use of as much as the 4,000 mm limit as possible. The Mahindra TUV300 however is wider and taller than the 2016 Ford EcoSport, and also has a longer wheelbase at 2,680 mm.
The TUV300 also benefits from a bigger boot, though the 2016 EcoSport has a higher ground clearance at 200 mm.
Coming to the powertrain, both cars get a 1.5-liter diesel engine (the 2016 EcoSport is also available with petrol engines), though the TUV300 runs on a three-cylinder unit whereas the EcoSport chugs on a four-cylinder motor. The Mahindra makes 84 bhp (81 bhp when fitted with the AMT), whereas the Ford puts out 98.6 bhp, though torque is higher on the former. Sensing the demand for automatic transmission vehicles, Mahindra has launched the TUV300 with a 5-speed AMT, whereas the lone gearbox on the EcoSport is a 5-MT. Owing to its 1.59-tonne kerb weight, the TUV300 is down on the power-to-weight ratio front, as well as fuel efficiency, in comparison to the Ford.
However, the Mahindra TUV300 strikes back thanks to an aggressive starting price of INR 6.98 lakhs, which is INR 1 lakh cheaper than the entry-level Ford EcoSport. The top-end variants of both SUVs see a price difference of INR 1.24 lakhs.
Mahindra TUV300 - Official images