Seen here is a rendering of the upcoming 2015 Mercedes-Benz C63 AMG, envisioned by Khalil B. The performance-oriented version of the new C Class is expected to be launched by the end of next year, while previewing an all-new engine from the brand. Mercedes will ditch their large-volume, naturally-aspirated 6.3-liter V8 which powers the current C63 AMG, favoring a down-sized, turbocharged engine instead. This new engine would be a 4.0-liter twin-turbocharged unit producing power in the whereabouts of 454-493 bhp, and will come paired to Mercedes's 7-speed 7G-SpeedShift AMG transmission. A four-wheel drive version is also on the anvil.
Like all other AMG models, this engine will also feature the "One Man, One Engine" production method, which sees each outfitter exclusively assigned to each engine. The same 4.0-liter engine will be seen powering the upcoming Mercedes SLC as well.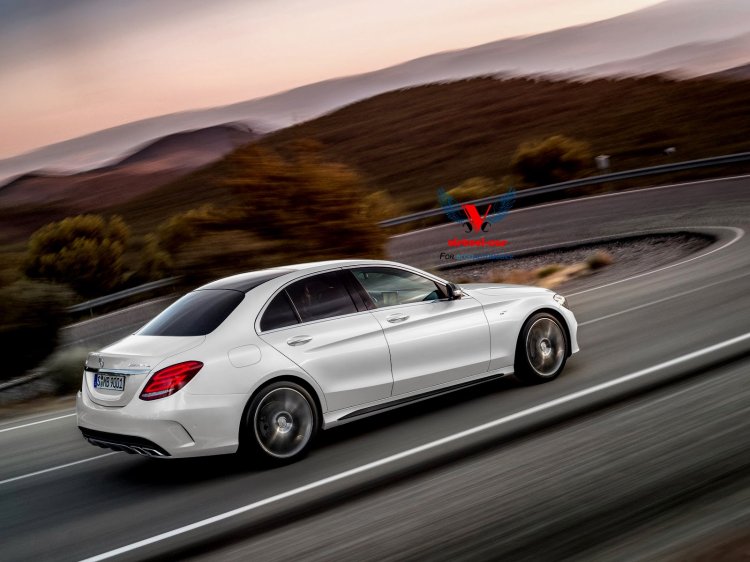 Thanks to extensive use of aluminium, the new C Class weighs 100 kg less compared to its predecessor. This, combined with the twin-turbocharged engine is expected to make the new C63 AMG more fuel efficient and less polluting.
To look the part of a performance-oriented, four-door saloon, the C63 AMG in this rendering sports aggressively-styled airdams, an Avant-Garde grille, AMG alloy wheels, carbon-fiber housings for the wing mirrors and quad exhaust pipes.
[Images from Blog Automobile]