The 2015 Mercedes C Class has been caught on tape in Sweden. During the Geneva Motor Show, Daimler CEO Dieter Zetsche has confirmed that the all-new Mercedes C Class will be revealed in 2014.
[Can't watch the video? Head to Youtube]
Mr. Flemming, a reader of Pro-street.dk managed to tape a fleet of 2015 C Class test mules on a Swedish highway. The cars are heavily camouflaged but we could observe that the design is fresher than the current C Class.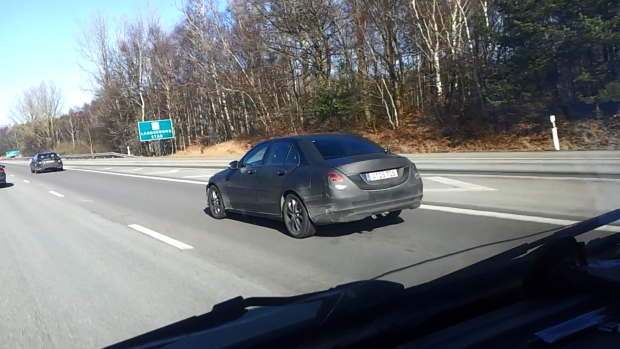 It will be underpinned by a modular platform called Mercedes Rear-Wheel Architecture (MRA) and will be dimensionally longer and wider than the current car.
It will boast new technologies borrowed from the recently facelifted Mercedes E Class and the upcoming all-new Mercedes S Class. The Front grill is expected to have smoother edges and the roofline swoops towards the rear. The overall design will be more sporty than the current model.
Most of the materials used for interiors and exteriors will be shared with the E and the S Class. Hybrid technologies are also speculated to feature in some of the variants, while the ground-hugging, fire-breathing AMG version will spice things up.
Audi A4 and BMW 3-series are outpacing the Mercedes cars in sales numbers in our market. The new C Class would attempt to redeem the throne when it replaces the rather outdated saloon. Along with the MFA-based products, the Mercedes C Class will be rolling up its sleeves to tussle against its German counterparts.
[Source: Pro-street.dk]