Dubai seems to be the new Nurburgring for auto makers. First the upcoming Range Rover was spotted testing in Dubai and now we have the same Youtube user (cruising down in his Mercedes G55 AMG) capturing footage of the next gen C-Class. The thickly camouflaged prototype was testing on Sheikh Zayed Road near Dubai Marina on Monday.
[can't see the video above? Head to Youtube]
We can easily judge that Mercedes is adopting a safe middle ground for the new generation. It will not increase the size of the C-Class but will focus on the refinement and its technology content.
http://www.youtube.com/watch?v=fUYVR1MM12k&feature=player_embedded
The 2015 Mercedes C-Class will feature swept back headlamps and a more streamlined body. It will don the new Mercedes design philosophy which debuted on the new SL Class and followed through to the new GL Class, GLK Class and A-Class.
The new design should be similar to the F800 concept showcased at the 2010 Geneva Motor Show.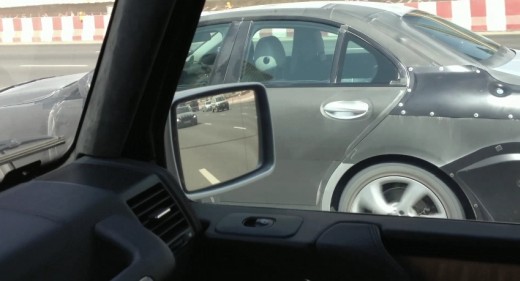 The interior will be inspired by the new A-Class consisting of a tablet screen that would have the installation of the next generation COMAND technology. A small controller, using hand gestures, will be used to operate the display screen just like the new iDrive in BMW. It may also have the Magic-Sky Control option which is present in the new SLK.
As for powertrains, we will see the regular lineup of petrol and diesels mated to an 8-speed or a 9-speed automatic gearbox. A hybrid option is also in the works. Eventually, there will be a twin-turbocharged 5.5-liter V8 AMG variant. This AMG model will be poked further to make the new Black Series model.