While you may have seen disguised pictures of the 2015 Hyundai Sonata on the web previously, here is an image that has surfaced exposing the front-end of the car without clothing.
Likely shot at one of Hyundai's plants, the photograph shows how the Sonata will move upscale with a hexagonal grille that is accompanied by sweptback headlamps.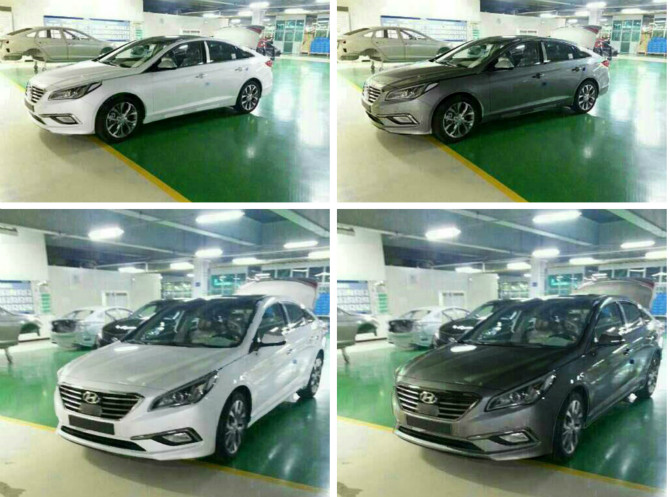 The front bumper is heavily designed with a trapezoidal airdam matched with symmetrical foglamp chrome highlighting. The swept-back headlights are recognizable as an evolution of the current Sonata's design. Hyundai designers have endowed the car with the new family look, while it still has enough to retain its unique identity from the larger Genesis. The overall design is cleaner and less fussy than the current vehicle.
The spyshot also shows the car with a sweeping roofline and sporting wraparound taillights.
Meanwhile, Hyundai announced this week that it had recorded 10,015 orders for the new Sonata since it began accepting pre-orders on Wednesday last week. The car launches in the Korean market on the 24th of March.
Hyundai haven't announced the technical specifications of the new Sonata, but combing though trusted website reports, we learn that the 2.4-liter four-cylinder motor would be replaced by a 1.6-liter turbocharged petrol engine that makes 201 bhp and 264 Nm of torque.
[Source - Bobaedream.co.kr]