Debuts an all-new 1.0-liter turbo-petrol engine.
Hyundai lifted the covers from the 2015 i20 (Euro-spec) at the Paris Motor Show this month. Largely similar to the Elite i20 of India, the new i20 for Europe is equipped with several more features detailed in the video below.
[Head to YouTube if you're unable to view the video above.]
For instance, the headlights get projector elements and LED daytime running lights, and the top-end variant is equipped with a panoramic sunroof. Comparing it with the Elite i20, the European i20 is slightly longer at 4,035 mm, though the wheelbase is the same.
Leather seats, heated front seats, front parking sensors, a contrast shade for the dashboard and a mobile phone holder are some of the Europe-exclusive cabin features. On the topic of powertrain, the new i20 can be had with 1.25- and 1.4-liter four-cylinder petrol engines. The 1.25-liter is paired to a 5-speed manual, and the 1.4 gets a 6-speed manual or a 4-speed automatic, a gearbox that is unavailable to India.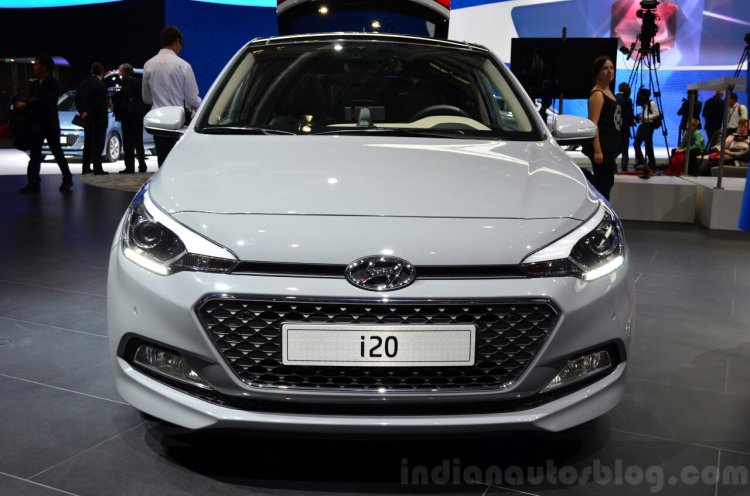 An all-new 1.0-liter three-cylinder turbocharged petrol engine made its debut on the i20, and produces 120 PS (118.3 bhp) and 172 Nm of torque. The engine will however not be sold until next year.
Also read: 250 PS Hyundai i20 N hot-hatchback in the works
The diesel engine range starts with a 1.1-liter three-cylinder and extends to a 1.4-liter four-cylinder CRDI engine. Both engines come with a 6-speed manual transmission.