Volkswagen is busy testing the next generation Passat based on the MQB platform in snowy lands of Europe. The body parts are yet to be finalized and hence testing of the platform or carriage is being conducted with the current Passat's body.
In the meantime, AutoBild has presented us with some exquisite renderings of all the body types expected on the next generation VW Passat.
As one can see, Volkswagen has major plans to revamp the VW Passat lineup after the current generation model was a reskinned previous generation car. The German automaker is planning a total of 4 body styles - Sedan, Estate, Convertible and CC.
What do we know of the next generation VW Passat?
The 2014 Passat will be based on the all new MQB platform. It will get slighter longer and wider than the current generation model. Volkswagen has plans to pitch it against the Mercedes C Class.
There will be two different models – European Model and American Model, the European one is expected to be slightly longer than the American one.
There will be a Passat CC model which will move slightly up market to fill the gap between the standard Passat and the next generation Phaeton.
It is expected to shed weight by 75 kg. The 2014 Passat is expected to tip the scales at around 1,400 kg.
The interiors are expected to feel better in terms materials and build quality. It is also expected to feature Volkswagen's new modular infotainment system designed to fit in right from the Golf to the Phaeton.
Petrol engines from Volkswagen's EA211 family, varying in capacity from 1.4 -, 1.8 – and 2.0-liter TSI engines will be plonked with power ranging from 130 hp to 250 hp. These engines will feature cylinder de-activation technology.
Diesel firepower will comes from the EA288 diesel series. A 2.0 TDI with a new bi-turbo TDI will appear in the list of oil burners with power ranging from 170 hp to 200 hp.
Hybrid and Electric drive-lines are also in the pipeline.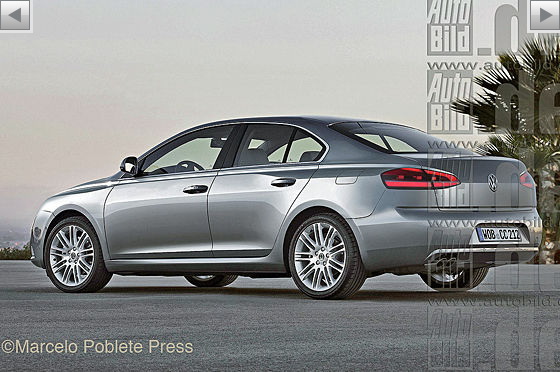 Stay tuned as we get you more updates on the 2014 VW Passat.
[Source - AutoBild.de]