Volvo Auto India has launched the updated models of the S60 and the XC60 SUV today. This story covers the 2014 Volvo XC60 SUV. Just like the refreshed S60, the facelifted XC60 too had its world debut at the 2013 Geneva Motor Show in March this year. Notice that the following sentence is a copy/paste from the S60 story  - The front fascia of the new XC60 ditches the split layout of the headlights and the new headlight cluster looks slimmer and is swept back into the fender.
The new bumper looks much more simple than that of the outgoing model, while the grille receives horizontal chrome highlights.
Technical enhancements come in the form of Volvo's upgraded City Safety (which now works at speeds up to 50 km/h), and the Volvo ADD (Adaptive Digital Display) for the instrument cluster. The TFT display can be customized between Performance, Eco and Elegance modes.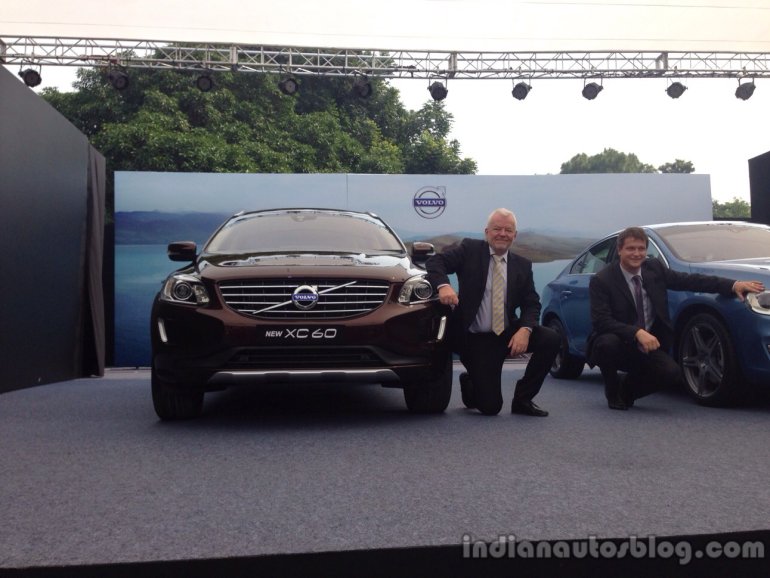 Apart from these changes, the new XC60 has also been given new sports seats and paddle shifters mounted on the steering wheel.
Under the hood, there are no changes and the XC60 will be offered with two diesel engines. The base XC60 D4 gets a five-cylinder turbocharged 2.0-liter unit producing 163 hp and 400 Nm of torque. The top-end D5 gets a 2.4-liter five-cylinder unit producing 215 hp and 420 Nm of torque.
2014 Volvo XC60 Prices
2014 Volvo XC60 D4 Kinetic - INR 40.5 lakhs
2014 Volvo XC60 D4 Summum - INR 43.5 lakhs
2014 Volvo XC60 D5 Summum - INR 46.55 lakhs
[Note: Prices are ex-Showroom, New Delhi.]
Stay tuned for the press release and the detailed image gallery of the new XC60.
2014 Volvo XC60 Image Gallery
2014 Volvo XC60 Official images
2014 Volvo XC60 Brochure
[Head to Scribd if you're unable to view the document above.]
2014 Volvo XC60 Launched Press Release
[Head to Scribd if you're unable to view the document above.]