IAB readers know Volvo has already started working on the next generation XC90. This will be an all-new model that will replace the 12 year old predecessor. Insideline brings us further details of the upcoming SUV: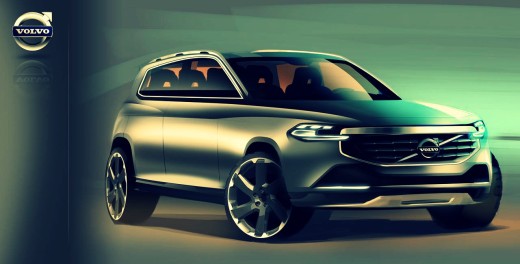 The XC90 will be the first model that will be based on the Scalable Platform Architecture (SPA), which will provide the hardware for the next generation of Volvo S60, V70, XC60 and S80.
It will feature a new generation of downsized VEA (Volvo Environmental Architecture) engines, which will be four cylinder turbocharged mills. Petrol and diesel options are expected, but there could also be a plug-in hybrid variant.
Volvo recently showcased 3 unique design languages to its fans and asked for feedback. The Swedish automaker is destined to choose one of these languages for the new XC90.
The 2014 Volvo XC90 will offer at least as much practicality as the original (including seven-seat capability), coupled with a noticeably more luxurious interior.
Apart from that, the company also has plans to introduce a smaller crossover to take on the BMW X1 and Audi Q3. However, the company does not have the right platform for same. Volvo recently introduced the V40 hatchback which uses the old Ford architecture whose hardware Volvo is gradually phasing out.
Volvo is open to a partnership with other manufacturers for developing a new platform. The company has also set up a new department specifically to handle alliances with other companies. The new crossover will sit between V40 and the XC60 and will debut in the next two-three years if Volvo finds a way out this year.
[Source: InsideLine.com]