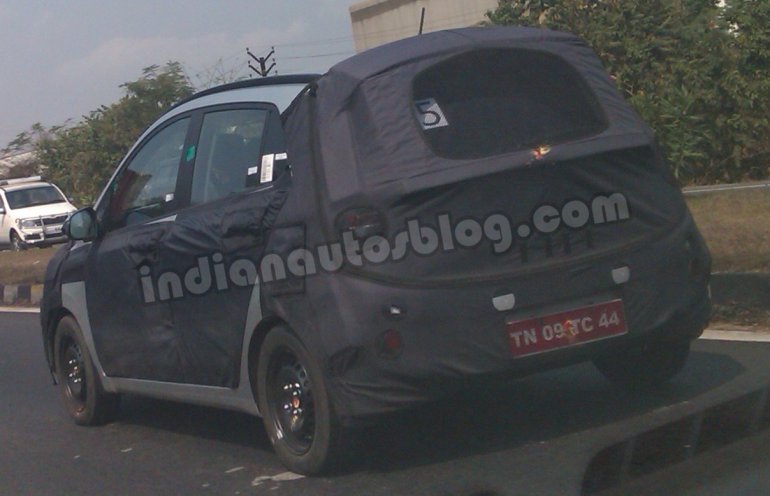 The 2014 Hyundai i10 (codename - Hyundai BA) is expected to be a hugely improved version of what is already a brilliant hatchback.
Hyundai India has started testing the car last year and we are sure that more test mules will surface as the time progresses. The next generation car is expected to break cover at the 2013 Frankfurt Motor Show this September.
Unlike the current i10 which is manufactured only in India, the next generation car will also be built in Turkey.
According to our sources, the Chennai plant will manufacture a total of 18 variants of the i10 including export-spec LHD variants.
There are 10 RHD variants (domestic and export spec variants combined) and 8 LHD variants planned.
Let's focus on the RHD variants -
The base trim level sans ABS, airbags is available with all the powertrains - the 1.2L Kappa MT, the 1.2L Kappa CVT, 1.2L Kappa Bi-fuel (LPG) MT and the eagerly anticipated 1.1L diesel engine, again with MT.
The next trim level adds ABS to the package and is available with 1.2L Kappa MT, 1.2L Kappa CVT and the 1.1L diesel MT.
The next higher trim offers Electronic Stability Control (ESC) along with ABS but it is available only with the petrol engine in both MT and CVT variants.
The top of the line variant sports Idle Stop and Go (ISG) system to improve fuel economy. This trim level is available only with the 1.2L Kappa.
LHD variants are available only with petrol engines. The base variant uses the 1.0L Kappa while the rest of the variants employ the 1.2L Kappa. Trim levels are similar to that of the RHD versions.
See spyshots of the next gen Hyundai i10 testing in Chennai
Just like other car makers, Hyundai has skimped certain equipment in the diesel variants to be able to price it competitively. The production of the new hatchback is expected to commence in the second half of 2013. Start of production is confirmed as September 2013 at the Turkish plant.
[Spyshot sent in by IAB reader Sriram]