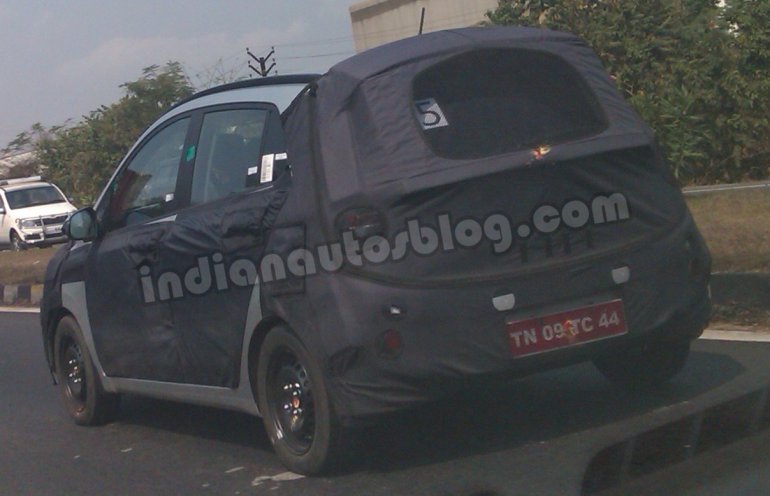 Test mules of the 2014 Hyundai i10 are now becoming very visible on the roads of Chennai, suggesting that the testing has been intensified.
Here's a spyshot of the next gen (2014) Hyundai i10 caught testing a few kilometers away from Hyundai's manufacturing unit near Chennai.
The test mule was caught by our avid reader Mr. S. Sriram and he reports that the Hyundai i10 test mules were accompanied by the Maruti Swift ZDI, Ford Figo TDCI Titanium and Maruti Ritz VDI.
That sort of confirms that the 2014 Hyundai i10 is graduating slightly upmarket to fight it out with the aforementioned hatchbacks and to its rescue comes the 1.1-litre three cylinder motor that sips diesel. The engine develops 74 bhp in the UK spec Hyundai i20. A tweaked 1.2 litre Kappa2 petrol would be continuing alongside.
Hyundai has shown turbocharged avatars of the lower displacement Kappa engines which could be utilized on the i10 later this decade.
The spyshot gives us a better view of the window lines. From what we see, its overall shape is almost similar to the current car. The upward kink in the rear quarter glass is subtler than before. And from the photo, it is pretty apparent that the new i10 is bigger than the car it would replace. Its more a jelly bean now than a tall boy.
The next generation Hyundai i10 is expected to make its world debut at the Frankfurt Motor Show in September. The car will be made at manufacturing plants in India and Turkey, with the Turkish production lines beginning to hum from September.