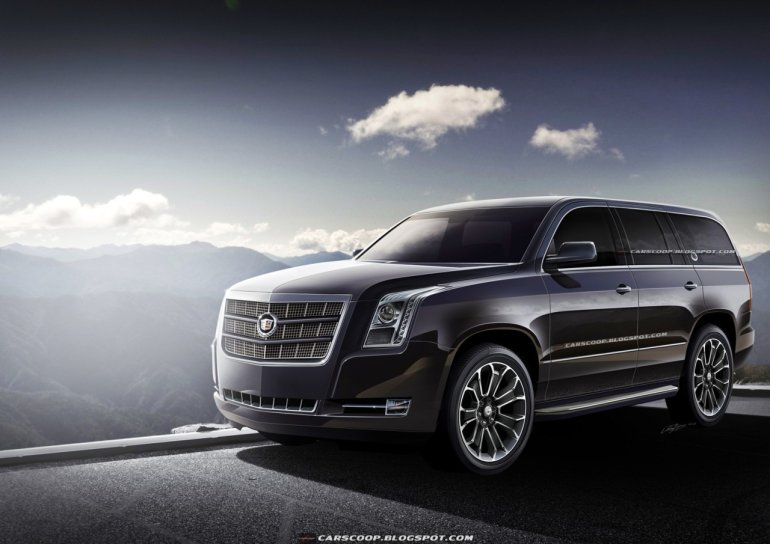 Do rappers, movie stars and movie scenes featuring the FBI have something in common?
Sure they do. At any given time, a Cadillac Escalade isn't far away from these three.
The Cadillac Escalade has been featured in many rap videos that have topped charts in India and a few imports have been spotted here in our roads as well. There's news for the Escalade enthusiast or a prospect today, thanks to our friends at CarScoop, who have come with intel on the next generation model.
Based on spyshots of the Chevrolet Silverado and the GMC Sierra as well as Escalade test mules, Carscoop presents a digital mock-up of the 2014 Cadillac Escalade.
The current model (the third generation model) was launched in 2006, satisfying the crave for big wheels and chrome; however the styling was too brash for a family SUV.
The fourth generation model, according to CarScoop would "rectify design misadventures" sporting cleaner lines, but will hold on its to the widely recognized visual statement.
A bold Cadillac grille accompanied by giant headlights, placed in a recessed manner against a body line that initiates at the bottom intake and spreads across the headlight/fender, continuing all the way to the rear bestows a strong character upon the front end.
The creases on the body are coordinated and classier, if this render is accurate. A good share of donor parts come from the Silverado pickup, such as the A-pillars, but the car's side profile and rear would vary in design.
Chrome framings in the upper end of the doorframes and shiny inserts on the intake gills, side steps and trunk plaque lift the bling quotient.
Interiors are expected to be further differentiated from the GMC and Chevrolet cousins. The design and quality would justify the Cadillac's premium pricing. One can expect plenty of safety features such as an integrated touchscreen, lane departure warning, active cruise control and head-up display on the incoming car as well.
The update for the Escalade comes at just about the right time as Mercedes Benz has only recently launched a new GL Class, one of the Escalade's chief rivals.
So then, the 2014 Cadillac Escalade would be gentler on the eyes while retaining its larger than life personality. Will the less showy design features and a less intimidating front-end of the replacement upset its existing customer base? We'll find out when the Escalade hits the market later this year.
[Source - CarScoop.BlogSpot.com]