Just like Marketing has four P's (Price, Product, Place and Promotion), Automotive also has its own four P's (Product, Performance, Practicality and Price). If there is one car that combines all four Ps in a perfect package, it is definitely the BMW M3.
As the BMW 3 Series line was given an all new F30 model, the M3 (a performance version of the 3 Series from the skunk works of the M Division) also needs to be based on the current car. This means that the E92 M3 will soon be pulled out of production to make way for an all-new M3.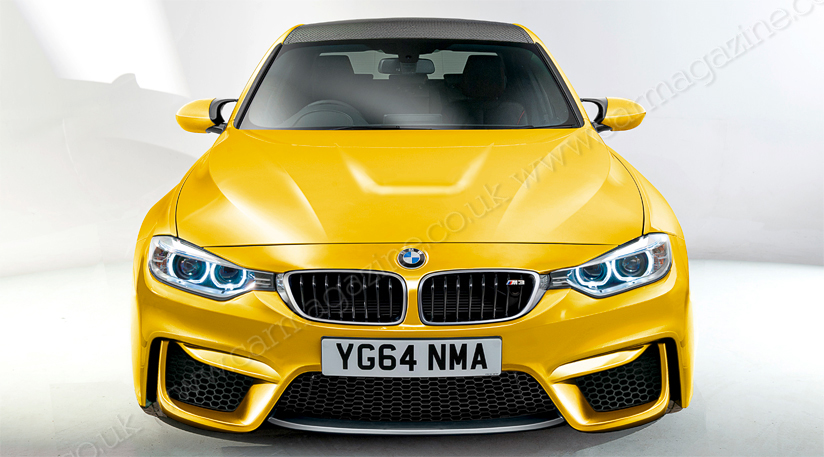 CarMagazine shows us a rendering which they claim is based on two design drawings taken out of BMW's Munich's styling studio. The publication also reports the following juicy details of the 2014 BMW M3 -
The new M3 will sit lower to the ground with a widened track. It will wear chunky 19 inch shoes.
The front will receive a different air spoiler, a fake power dome and M designation on the front grille.
To make it visually sportier, it will have blue brake calipers if the carbon fiber discs are ceramic or gold. It will also have a graphite finish for the door mirrors and wheel finishes along with blackened chrome exhaust tips.
On the inside, there will be oodles of carbon fibre fittings along with an open-spoke steering wheel design and slimline paddle shifters to change gears.
The biggest change is the return of the straight six engine. Having opted for a V8 engine in the E92, the Bavarian automaker has decided to go back to its roots with the F30-based model.
A brand new 3.0L twin-turbocharged engine will send 444bhp to the rear wheels via an 8-speed M-DCT twin-clutch box or a 6-speed manual. The new M3 is expected to be faster than its predecessor by 0.3 sec in the 0-100 km/hr sprint. The top speed will be limited to 150 mph.
The 2014 M3 will also feature the M-Diff which is a mechanical differential controlled by a computer chip which distributes the torque to the wheel with most grip.
To keep the weight low, the M3 will feature certain body panels made from carbonfibre-reinforced plastic (CFRP). The target is to keep the weight under 1,500 kg.
BMW will present a concept avatar of the 2014 BMW M3 at the Frankfurt Motor Show followed by a production model at the next year's Geneva motor show.
[Source: Carmagazine.co.uk]