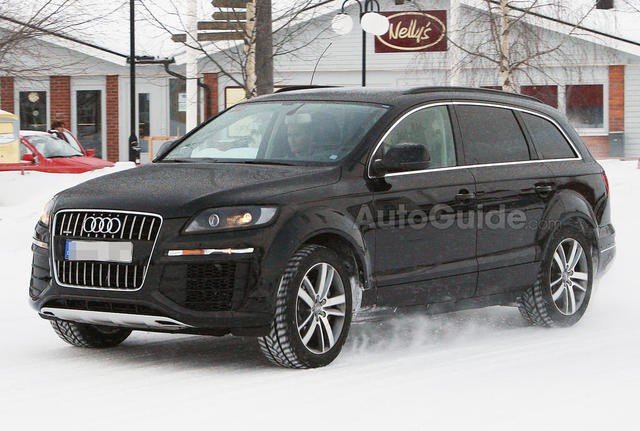 Plenty of next generation German cars have embarked on their testing programs to reach production lines in the next few years. After the next generation S-Class, C-Class and the BMW X5, variants of the newly launched 3 Series, today we have the next generation Q7 starting its test program in snowy Europe.
The model spotted here is the current Q7 testing certain organs of the replacement model. We've posted information on the next generation Q7 on our international news blog (steeringnews.com link) and carried a rendering of the front fascia providing readers an idea of what to expect.
The second generation Q7 is being put through an extensive weight loss program through the use of lightweight aluminium construction. It's expected to shed over 300kg to turn into a more nimble and fuel efficient SUV. Audi's renewed interest in alternate fuels could lead to a hybrid powertrain and thanks to the fat shedding, even the conventional engines (3-liter petrol and diesel motors) will consume less fuel and emit fewer carbon dioxide emissions.
Another interesting aspect of the 2014 Q7 is its platform - it will so many components with its cousin sisters from Volkswagen (Touareg) and Porsche (Cayenne) who have used the aluminium diet to slim down and look a million dollars!
The skin of the new Q7 will soon be applied to the test mules but don't expect to proportions to vary significantly.
[Source - AutoGuide.com]