The trio of German manufacturers (Mercedes, BMW & Audi), three very important auto manufacturers in the world, oddly are like a bunch of kids giving their school exams. Whatever one does, the other one copies. The latest case in point is the Audi Q6 which hopes to rival BMW's X6 in the near future.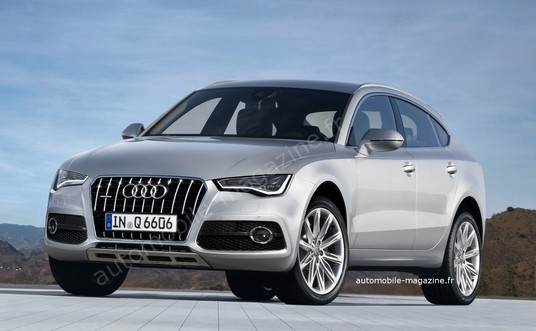 The BMW X6, touted by BBC motoring presenter Jeremy Clarkson as the most pointless car in the world, is a unique blend of a sportscar and an SUV. However, it doesn't work as a sports car because the ride height is too high, nor does it work as an SUV because of the stiff suspension. Nonetheless, the product is very unique in the market with no competition whatsoever. But if Audi has its way, then it wouldn't be unique for very long.
The Audi Q6 is a proposed SUV, which is based upon the Audi A6 luxury sedan, to compete with the BMW X6 sport activity vehicle. However, it will be styled less radical than the X6, just to maintain livability and good outside visibility.
Audi is planning to make it considerably lighter by using a judicious mix of materials including aluminum for the roof and hood. It will be well under 2 tonnes and will be 370 to 400 kg lighter than the bigger Q7.
It will be offered with a variety of petrol and diesel engines plus a hybrid option (just the way Porsche does it for Cayenne). One may also find a turbocharged 4.0L V8 engine under the bonnet as seen on the new generation RS6.
If all of this is quite tempting to you, then hold your horses because the Q6 is expected to make a debut only in 2014.
[Source - Automobile-Magazine.fr]