So Audi Q5 is turning out to be a very famous test mule in the VW family. First Porsche used it to test their new baby cayenne – The Cajun. Now, Audi is using it to test their new BMW X6 competitor – the Audi Q6.
Yes people, beneath the body of the conspicuous Q5 is the sporty new crossover from Audi which will be the first challenger to the BMW X6 – a one of its kind coupe crossover.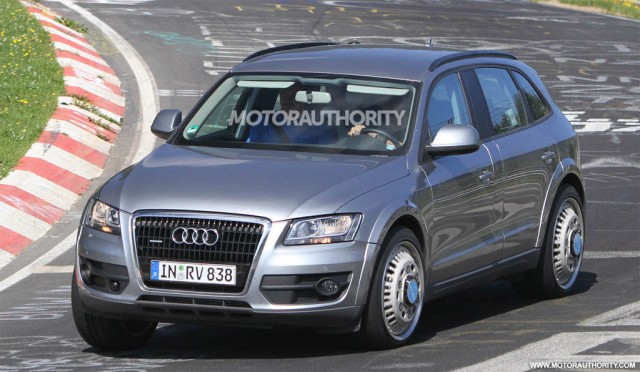 This latest spy shots were taken at Nurburgring race track in Germany. It shows a test-mule for the car running up some high speed laps. The Q6 was under consideration since 2006 and finally Audi has started testing the product.
The Q6 is being developed specifically targeting customers in emerging markets such as China, Russia and India, which favor high-performance SUVs and crossovers.
You can see the extra sheet of metal between the doors indicating that this Q5 mule is stretched a bit. This is because the Q6 is going to use the Q7 platform. Audi is planning to make it considerably lighter by using a judicious mix of materials including aluminum for the roof and hood.
It will be well under 2 tonnes and will be 370 to 400 kg lighter than the bigger Q7.
This prototype doesn't tell us much about the Q6's styling. However, reports have suggested that it will be styled less radical than the X6, just to maintain livability and good outside visibility. Just like the BMW X6, the Q6 will be five-seat crossover with the all-wheel drive underpinnings.
It will most likely share V-6 and V-8 engines with the rest of Audi's SUV lineup. A sportier Q6 S is also rumored, most likely coming with a supercharged V-6 engine, as is a hybrid variant.
The Q6 is expected to debut in 2014. But hold your horses because Mercedes is also planning a coupe crossover on the M Class platform.
Stay tuned as we get you more updates on this three way coupe crossover battle :)
[Source - MotorAuthority.com]