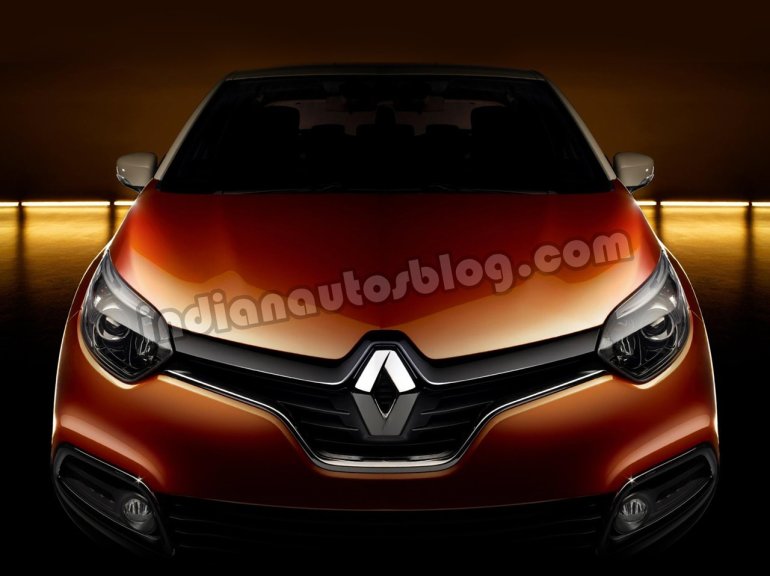 The Renault Duster has a cash cow with the Duster. Over 20,000 units of Renault India's fourth launch from its second innings were sold in 2012. But the Duster isn't a Renault product in the European markets.
It is actually sold as the Dacia Duster made by the Romanian automaker Dacia who is the low cost car specialist of the Renault-Nissan Alliance.
Renault needs its own contender in the CUV segment with premium interiors, European finish and superior technology to be able to compete in higher price segments.
In comes the Renault Captur, a Clio based crossover to rival the likes of the Fiat 500X, Chevrolet Trax and Peugeot's recently announced 2008.
Renault had released a teaser image of the Captur which has been digitally enhanced by our in-house digital rendering wizard Shoeb R Kalania to give you the complete picture.
While Renault has not officially confirmed whether it will be called the Captur or something else, the international automotive media has assumed that it will inherit the name from the high-riding crossover coupe concept that was showcased at the 2011 Geneva Motor Show.
Internally, this CUV is known as Project J87 and it is based on the Renault-Nissan B platform which also underpins the new Clio.
When it goes into production in 2014, it will sit comfortably beneath the Koleos SUV replacing the aging Modus worldwide.
The Renault Captur will source its engines from the Clio's inventory. Expected range should include –
Renault Capture Petrol engines
0.9L TCe, three-cylinder turbo petrol with 90 hp
1.2L TCe, four-cylinder turbo petrol with 120 hp
Renault Capture Diesel engines
1.5L DCi with 90 hp
1.5L DCi with 120 hp
1.6L DCi with 130 hp
Transmission duties will be handled either by a five-speed manual or the optional six-speed EDC double-clutch automatic that comes on the Clio variants.
Renault will reveal all the details on 11th of January. The production model will be showcased at the 2013 Geneva Motor Show in March.
We don't believe that the Captur is on the model sheet of Renault India for the next few years as the energies will go into transforming the Duster as a super-brand in the SUV-loving Indian market, and the European-oriented Clio platform would be very expensive to pursue localization in India.