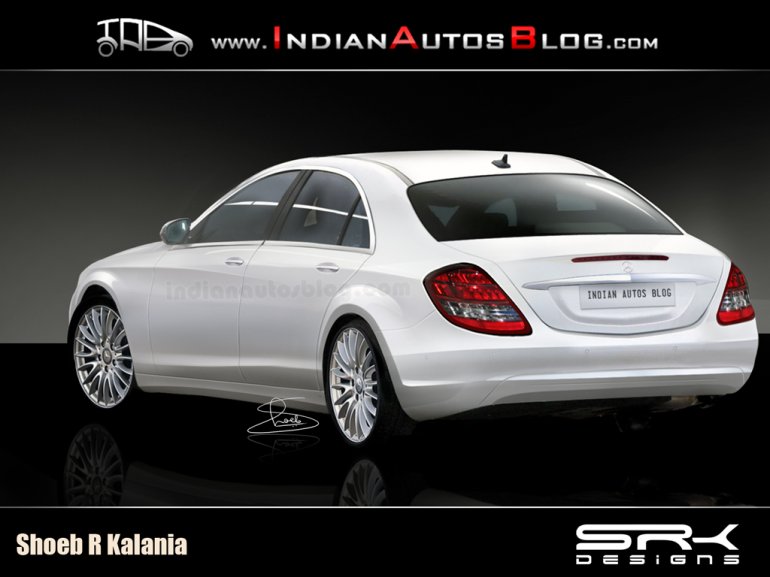 Mercedes Benz is busy testing their latest offering for 2013, the new S-Class. Spyshots of the same have been shared previously and renderings of the front fascia have also surfaced. Today we show you what the new luxury sedan might look like from the rear.
The car now sports new curves, the new design seems to be based on both the F800 and F700 concepts shown at motor shows in recent years.
While the front and side profiles have character lines that seem to be borrowed from the F800 concept, the rear seems to have utilized the styling elements of the F700, especially the tailgate and the tail-lamp design.
The S-Class has consistently played the role of a time machine, sporting futuristic technologies that the world can expect in the future on affordable cars. We expect something similar with this model too.
The engine options on the 2013 Mercedes S-Class should include the S250 CDI, S350 CDI, S300 Bluetec hybrid and S400 Bluetec hybrid, S500 and S600. AMG versions will follow suit. All these new variants will be tuned for reduced emissions and increase in power and fuel economy.
Upon launching the sedan version, Mercedes Benz might introduce a long wheelbase version (codename - V222) and later on maybe a two door coupe version of the short wheelbase. Sources have revealed to international blogs and websites that a cabriolet and a limo version could join the S-Class lineup.
Indian Autos Blog was told by a source familiar with the development of the W222/V222 program that a super-luxury model based on the S-Class platform will be shown to Mercedes Benz representatives from around the world in Germany in the next few weeks. This glorified variant is likely to fill part of the void left by the retiring Maybach cars.
Mercedes is rumored to publicly unveil the short wheelbase edition of the new S-Class at Frankfurt later this year. Six months after the introduction of the long wheelbase model, Mercedes India is expected to retail it. This is likely to start in the second half of 2013.