With almost everyone today using Facebook, Twitter and Youtube you need the safety of Area 51 to keep something secretive for very long. Case in point is the new Mercedes A-Class caught completely undisguised on the public roads of Canary Islands.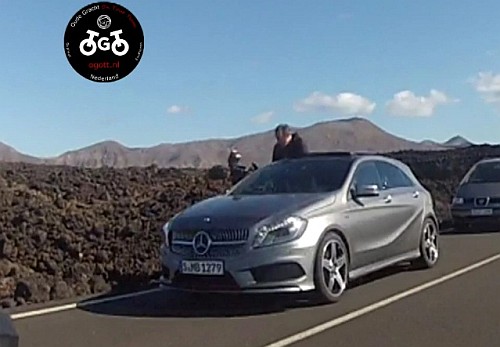 When the unsuspecting Mercedes crew are filming for the promos far away from the prying eyes of the bhp paparazzi, a cyclist with a video camera decided to advance the unveiling ceremony through a Youtube upload.
Mercedes Benz must be pissed.
Mercedes is introducing the 5-door hatchback before the sedan and the SUV bodystyles (all three could reach India in the next two years) according to our friends at CarScoop. The hatchback is a direct competitor to the likes of the Audi A3 (which is also moving to the next generation at the Geneva Motor Show next month) and the BMW's new 1 Series introduced last year.
Designed around the Concept A-Class showcased at the Delhi Auto Expo last month, its fair to say Mercedes' A-Class has edged out its rivals to take the crown of the most creative design in its crop.
[Source - CarScoop.blogspot.com]