Edit - Thanks to one of our eagle eyed readers, we understand that the image shown below is of the i30. Hyundai has not released any images of the facelifted i20.
In Slovakia, Hyundai has supposedly released a teaser image of the i20 facelift speculated to touch down at the Geneva Motor Show in under than eight weeks time. The thematic design of the new i20 is inspired by the Verna and the recently introduced i30 hatchback.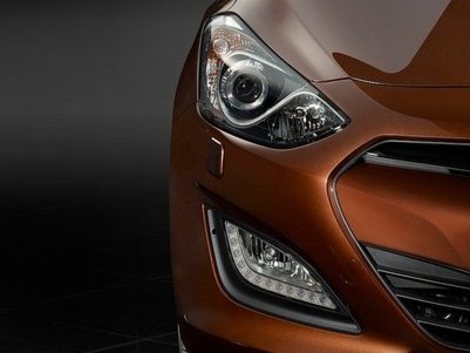 This is a cropped image of the Hyundai i30, the facelift of the i20 will derive some design inspiration from it.
Our friends at Pravda.sk have written that the new i20 will feature environmentally-friendly technologies and possibly include a 1.6 GDi (Gasoline Direct Injection technology India will get on the i45) under the bonnet.
Indian Autos Blog has already submitted to its readers two sets of exclusive spyshots revealing the changes clearly followed by an SRK rendering. For the Indian market the i20 facelift will have a swiveling headlight design and chrome borders to its foglights instead of the LED lights shown in the teaser image.
Stepping inside the car, the upper part of the center console has been redesigned, otherwise interiors are not all that different. Hyundai should use the i20 facelift's introduction as an opportunity to include variable valve timing on the smaller petrol engine. The current 1.2 petrol, 1.4 petrol and 1.4 diesel will stay on as powertrain options until the successor (codename - IB) is ready in 2014.
[Source - Auto.Pravda.sk]