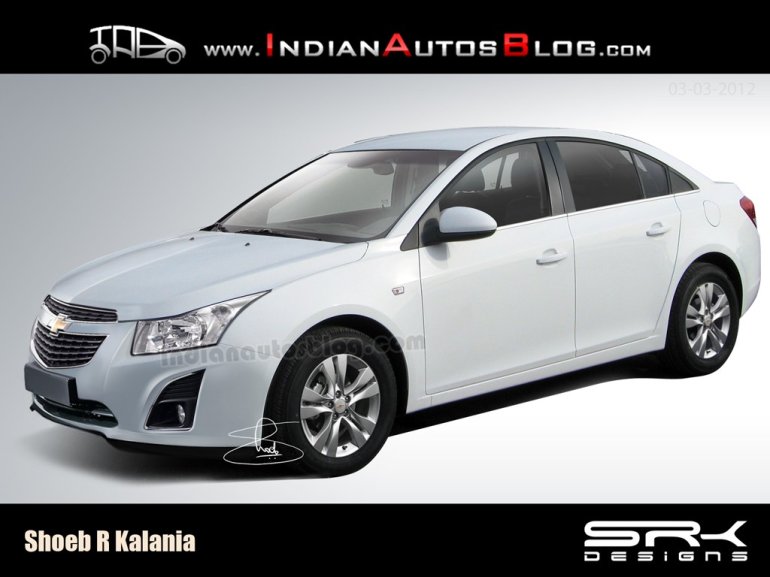 General Motors will show the station wagon variant of the Chevrolet Cruze in wagon-loving Europe. At the Geneva Motor Show later today, General Motors will reveal the Cruze wagon sporting a new front fascia expected to find a place in the sedan when it comes in for a mid-life refresh.
Not leaving it for an official unveiling or a spy shot, our image editing wizard Shoeb R Kalania fused the Cruze wagon's front-end into the sedan body style. His work feels like he's gone to the future, plucked out an image from the press archive, and brought it back for this post!
The facelifted Cruze sedan may be launched a few months after the station wagon hits showroom floors this summer in Europe. The estate model borrows the 2.0-liter diesel engine that propels the sedan and a new 1.7-liter VCDi engine armored with fuel-saving start-stop technology generating 130bhp joins the lineup. It is not clear if General Motors India will use the low displacement engine for the Cruze facelift.
Speaking to IndianAutosBlog.com at the Delhi Auto Expo, a higher official from GM India said the 2.2-liter VCDI used on the Captiva will not be asked to carry out duties on the Cruze. He also stated that GM India is not looking at petrol engine options for the "Diesel Rocket."
For Europe this is not the case as the 1.6-liter and 1.8-liter petrol engines, taken from the sedan's lineup, will find plenty of buyers on the wagon as well.