BMW is getting ready for the launch of the BMW 3 Series GT.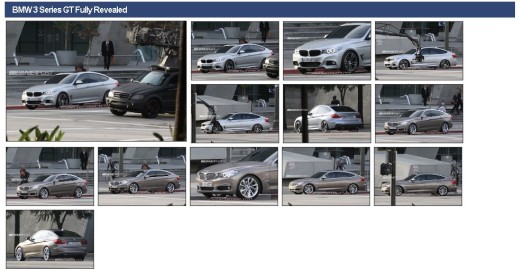 The GT version cars based on the F30 3 Series sedan were caught by Bimmerpost.com during a commercial video shoot. The 3 Series GT looks sharper and sleeker than the 5 Series GT, especially the roof line and the rear fascia.
The front fascia of the GT is same as the new 3 Series sedan and the GT has a vent in the front fender which mimics the mirror image of the number '7'. The vent is finished in black in the sporty M sports package trim (Silver car) while it gets aluminium finish in the Modern line trim (Havana Metallic car).
The BMW 3 Series GT M Sport variant comes with M Sport front bumper, side skirts, rear diffuser, M Performance brakes and 18" inch alloy wheels.
Powering the 3 Series GT will be the same set of four and six cylinder petrol and diesel motors that are doing the duty in the 3 Series sedan.
What remains to be an unknown is if the 3 Series GT will be offered in India. We're also not sure about the global debut of this car. We suspect a 2013 Geneva (held in March) reveal is planned.
2012 BMW 3 Series variant roadmap
F30 3 Series Sedan
F31 3 Series Estate
F32 4 Series Coupe
F33 4 Series Convertible
F34 3 Series (GT) Gran Touring
F35 3 Series extended Wheelbase (for the Chinese market)
F36 4 Series Gran Coupe
There would be no competition to the 3 Series GT in India, but can BMW market it in a way that it brings new customers and doesn't sell at the expense of its family members? Although BMW India has experience in dealing with the GT body style (it sells the 5 Series GT in limited volumes through the CBU route), has it given them the confidence to assemble the smaller GT in India?
[Head over to F30Post.com to see the image gallery]