Aug 20, 2012 - 1:48pm IST
Filed under
BMW
Give your BMW a personal touch with M Performance parts [video]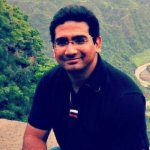 Kaustubh Shinde, They say sooner or later your passion finds you. Sometime in late 2009, I started writing for IAB and ever since then it has been a roller coaster ride for me. An amazing experience that has taught me a lot, taken me to new places, driven some great cars and met some amazing people. When you don't find me on IAB (very rarely), you will find me either at a coffee shop or an eatery or at the nearest gadget store. Hope you enjoy IAB as much as we do!
So you have recently booked your new BMW 3 Series and now you are awaiting deliveries. Well, you are a part of group that includes 500 other people also awaiting deliveries.
[can't see the video? Head over to Youtube]
Don't feel special anymore? BMW Performance parts are here to give your BMW 3 Series that personal touch.
The list includes everything from Alcantara wrapped steering wheel to massive brake calipers to super sexy alloy wheels. The good thing about these performance parts is that because they are not after-market, the warranty remains intact.
We are not sure whether BMW has any plans to offer these in India in the immediate future.
However looking at the sheer number orders that BMW India is getting for the new 3 Series, we think a lot of customers would be interested in customization.