If you are kept in the dark about the Korean company's ambitions and product line-up in India, Hyundai is indeed planning to launch the i45 here in India. There are three solid indications that a launch is near -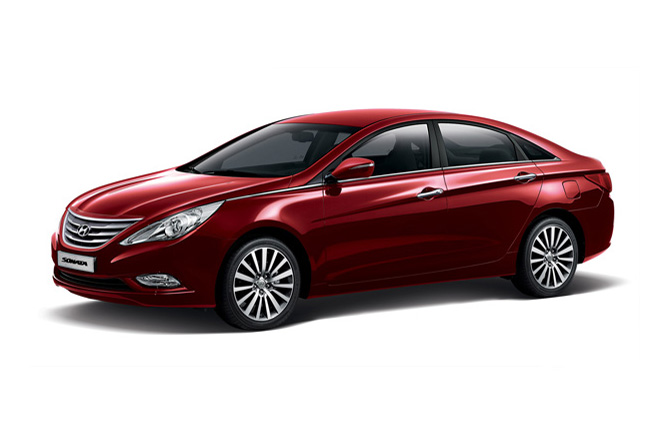 1) Hyundai's head honcho last year told IndianAutosBlog.com that "one by one" they will bring recent international products (i45, Avante and new Verna) to India.
2) Hyundai featured the i45 in its television commercials three months back in India to show audience Hyundai's new obsession with design and technology. Why will they show something that is irrelevant?
3) Hyundai is testing a virtually undisguised prototype near its plant wearing the i45 badge, caught on test by our reader Sarun earlier this year.
Now Hyundai has dropped a cosmetically different i45 (branded Sonata) in the Korean market.
Changes you ask? Blink and you'll miss it.
The facelift has revamped front grille with reduced chrome on the top and around the sides, plus new LED taillights, reshaped side mirror casings and a new set of alloy wheel designs that include a 18-inch multispoke rims. Hyundai is also increasing the standard equipment across the range along with the introduction of new trims.
The engine has been downsized from the 2.4-liters to 2.0-liters generating 271 horsepower. Surprisingly, the larger motor could only manage 165hp.
The D Segment is the new obsession for auto manufacturers. Volkswagen has just introduced the Passat diesel. Maruti brought the Kizashi. A refreshed Nissan Teana could debut next year along with the all new Toyota Camry followed by the Ford Mondeo.
Will Hyundai assemble the Sonata to get to a better price point, or will the CBU sales be just to satisfy a small demand and more to build the brand's image?
2012 Hyundai Sonata Image Gallery
[Source - CarScoop.Blogspot.com]