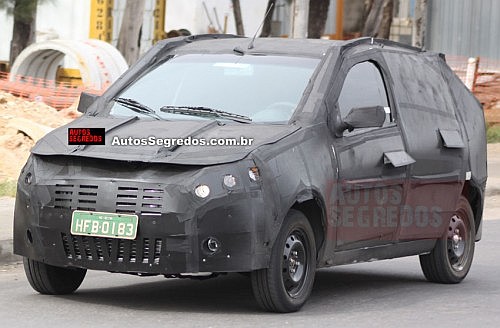 We have been bringing you updates about the upcoming 2012 Fiat Palio, now we have a breakthrough. Sources confirm the new Palio (pictured test mule) being tested in Brazil, codenamed 'Project 326' is based on the new Uno platform.
We speculate Fiat would be bringing this car to India before 2012. Fiat India had earlier announced its upcoming small car would be developed on an existing platform, now that it has been said by a reliable source that the upcoming car for India would be based on the new Uno platform, the current Palio platform could be killed.
The car being tested is clearly bigger than the current Palio but a tad smaller than the Fiat Punto. Even with a heavily disguised front, we can make out the new Palio would resemble the Punto, with its pointy headlamps and a huge grille.
The renderings of the 2012 Fiat Palio we had posted earlier seem to be spot on. The renderings showed a opening between the headlamps and above the real grille, we can clearly see from the pictures the opening above the grille.
The rear door seems to be tall and wide and which would allow easy ingress and egress. The roof does not taper too much towards the rear, hence creating more headroom for the rear passengers. The car's rear looks rounded and the tail lamps have been pushed up and seem to be oriented vertically, to resemble its bigger brother, Punto.
Fiat could also introduce the advanced Multair engine probably in its 1.0-liter guise. Fiat India has been for long delaying the new Palio's launch and with such a promising new car, Fiat India could be hoping to regain lost glory and gain a foothold in the ever-growing small car segment.
2012 Fiat Palio Spyshots
Source: AutoSegrodos