It's time to bid adieu to the current BMW 3 Series because there will be a new kid on the block this Friday. BMW has been testing the F30 (a.k.a new 3 series) for a while and we have brought you all the information right from its conception stage.
Now, BMW has confirmed that it will pull the wraps off the 6th generation 3 Series this Friday.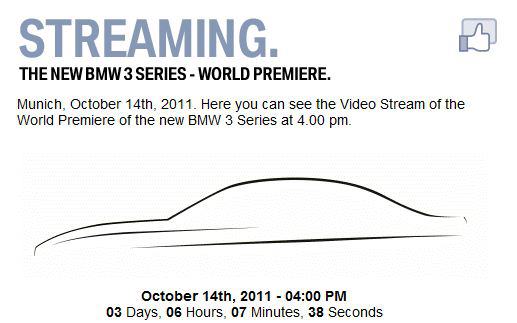 Rumor has it that with the new 3 Series, BMW has gone the Audi way – it has brought the 3 Series design and interiors on par with the 5 Series. This is the same strategy Audi has adopted wherein lot of components are shared between its portfolio.
The new 3 Series will feature a similar exterior design to the 5 Series. Spy shots have revealed that a lot of interior components of the new 3 Series are taken from her elder sister.
Improved frugal turbo charged engines will be planted in the new 3 Series. The expected power output of petrol engines are:
316i -134 HP
320i - 181 HP
325i - 218 HP
328i - 242 HP
335i - 302 HP
The oil burners include
316d - 114 HP
318d - 141 HP
320d - 181 HP
An active hybrid model is also in the making but very few details are available on the same.
For the Indian market, these are the variants expected -
Petrol – 320i (2.0-liter – 152hp) , 328i (3 liter straight six producing between 200-230 hp)
Diesel – (same 2.0-liter four-cylinder engine with two outputs) – 320d (175hp), 318d (146hp)
BMW has planned 4 body types for the 3 Series. Touring, GT, coupé, convertible and GranCoupé. 3 new body types of the 3 Series will ditch the nameplate and could adopt a '4 Series' badge.
So what are you waiting for? Join BMW's Facebook page to see the live streaming of the launch event. Also, don't forget to come back here to read our detailed report on the spanking new 3 Series.
[Source - FaceBook.com]