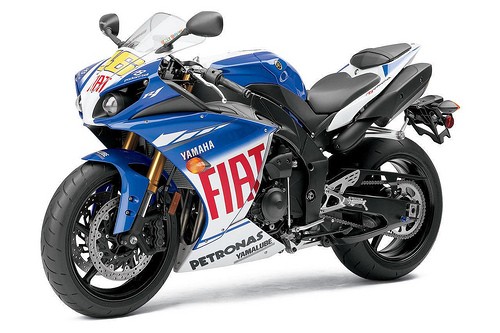 The U.S market has another addition to its bouquet of special edition motorcycles this year. The Limited Edition Yamaha YZF-R1 Valentino Rossi replica, apart from having all numbers and doctor logos, will be signed by the star himself. Yes, every single replica will have Rossi's signature on its fuel tank.
This Limited Edition motorcycle is part of the tribute to his outstanding achievements in the field of motorcycle racing. Available starting January 2010, it will set you back by $14,500 (If you're in the U.S).
hit the jump to view the press release
Press Release
Cypress, Calif. – Don't say we didn't warn you to forget everything you ever knew about the supersport liter class. Moto journalists and consumers agree once you hear the growl of the YZF-R1, it is clear that this bike is unlike anything before. Winning on the World Superbike racing circuit and in the motorcycle press, the R1 was chosen as the 2009 Motorcycle of the Year by Motorcyclist Magazine for its MotoGP®- inspired engine and chassis technology and its luxurious fit and finish.

New for 2010, the R1 will be offered in an LE Limited Edition complete with Valentino Rossi/Fiat Yamaha livery including the number "46" and "The Doctor" logos. Each LE will also contain a replica of Valentino's signature on the fuel tank.

It's all about power – delivery of power, to be exact. That's because the R1 is the world's first production motorcycle with a crossplane crankshaft. Originally pioneered in MotoGP racing with the M1, crossplane technology puts each crank pin 90 degrees from the next, with an uneven firing interval of 270-180-90-180 degrees. The result is incredibly smooth, roll-on power delivery with outrageous amounts of torque for a rush like you've never experienced before.

The unique shape of the crossplane crank smoothes out fluctuations in inertial crankshaft torque to provide very linear power delivery as the engine's combustion torque builds, giving the rider more linear throttle response with awesome power and traction exiting corners. Not just new, the R1's new crossplane crank engine represents a complete paradigm shift.

To make the crossplane crank viable an advanced ECU individually maps each cylinder's ignition and fuel injection timing. This powerful electronics package also controls Yamaha Chip Control Intake and Chip Control Throttle (YCC-I, YCC-T).

The inclusion of D-MODE variable throttle control function enables the rider to adjust performance characteristics to match a variety of riding conditions. In addition to standard mode mapped for optimum performance, the rider can select from A mode for sportier response in low to mid-speed range, and B mode for somewhat less sharp response for riding situations that require especially sensitive throttle operation. These 3 different maps at the push of a button allow the rider to choose the optimum power character for their riding situation.

This revolutionary new engine is housed in an equally advanced chassis. Control filled die-cast frame rails balance high vertical rigidity with relatively low lateral rigidity for increased high speed stability while improving handling, especially while leaned over during corner exit. A control filled die-cast magnesium sub frame cuts weight far from the center of balance and contributes to concentration of mass.

Visually the new R1 breaks new ground leading with twin projector beam headlights concentrated near newly placed forced air intake ducts. The sculpted body work features inner and outer shells controlling airflow around the bike at high speeds and forcing more cool air to the radiator and engine bay while eliminating the need for hot-air vents usually located at the sides of the radiator.

More than the just the next-generation of supersport; the YZF-R1 represents a major breakthrough in supersport technology and performance.

The 2010 R1 will be available in dealerships nationwide beginning in September 2009 with a starting MSRP of $13,290 and available in Raven, Pearl White and Team Yamaha Blue/White.

The R1 LE will be available in January 2010 with a starting MSRP of $14,500 and available in Fiat Yamaha Team graphics.
2010 Yamaha YZF-R1 Rossi Edition Image Slideshow
If you're not able to view the slideshow above, view all the images at the 2009 Yamaha YZF-R1 Rossi Edition Image Gallery