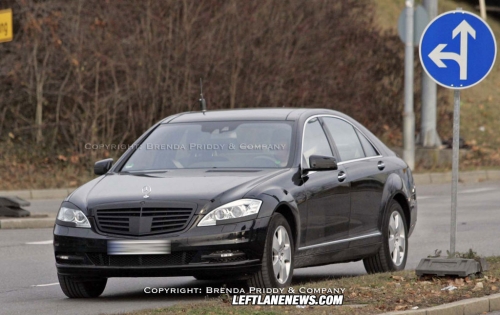 The launch of the Facelifted 2009 Mercedes S-Class may be just a few months away, but that doesn't stop the German car giant from creating a new S-Class model for 2010 !
Rivalry, the way we see it, it just hotting up between the Mercedes S-Class and BMW 7-Series. At first glance, this car looks too much like the existing S-class (very easy to mistake these pictures for a facelift). After hours worth of investigation, boy could I spot the differences!
Firstly, there is the new front-grille which is bigger and sits deeper into the bumper. Then there are the LED daylight driving lamps that are fitted to the outer edges of the front lamp units. Other minor changes include, new front skirt and fog lights, the differently sculpted bumper and the new mirrors with the more elegant side flashers.
Overall, most of the design cues had been borrowed from the stunning Ocean Drive Concept.
No changes are expected to be made to the car's powertrain, although a hybrid version of the S-Class will be offered for the first time in the form of the S400 BlueHYBRID.
Image Courtesy: LeftLaneNews.com
IAB Comment: We thought Porsche had lazy designers ! Maybe they have just moved into the Mercedes S-Class design division ! ;-)