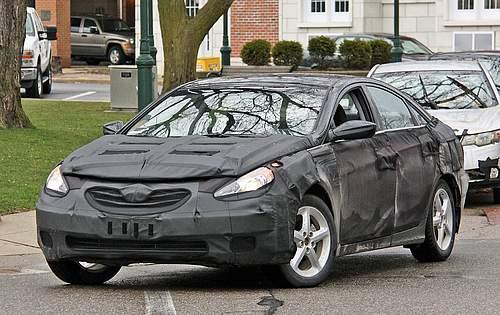 The 2010 Hyundai Sonata YF which is to be launched next month, was caught testing yet again. Even though the body shape looks very coupe-ish (like say a Mercedes CLS), thanks to the ultra heavy camouflage, people are left clueless about the car's overall design. Even the Front bumper we saw earlier, aint of much help!
Nevertheless, some say the 2010 Hyundai Sonata YF's headlights are from the Hyundai i30, grille from the Hyundai Equus, bonnet from the ixonic concept and looks like a stretched 6-Series beemer, while others say the dashboard has very obvious elements from Chevrolet's Beat, all Volvos, Honda's dials, garnished with Hyundai vertical Aircon vents.
Hyundai has been bringing out some very impressive new car designs of late, which means, a good looking Sonata YF is fairly obvious. But, will it become the 'Honda Accord slayer'? We can't wait to find out.
click through for full Image Gallery
Hyundai Sonata YF Spy Images
Source- Hyundai Blog