Not only was this 1973 Vespa restored, but it was also given a unique look with the Douglas Kit that makes it one of the most desirable retro-scooters in the country. This one too comes from R Deena Dayalan's garage. The avid collector of retro motorcycles from Mysore owns some of the rarest motorcycles and scooters that include Royal Enfield Mofa, Explorer, and Rajdoot Runabout. He also has four Yamaha RD350s in his garage, all of which are in near showroom condition.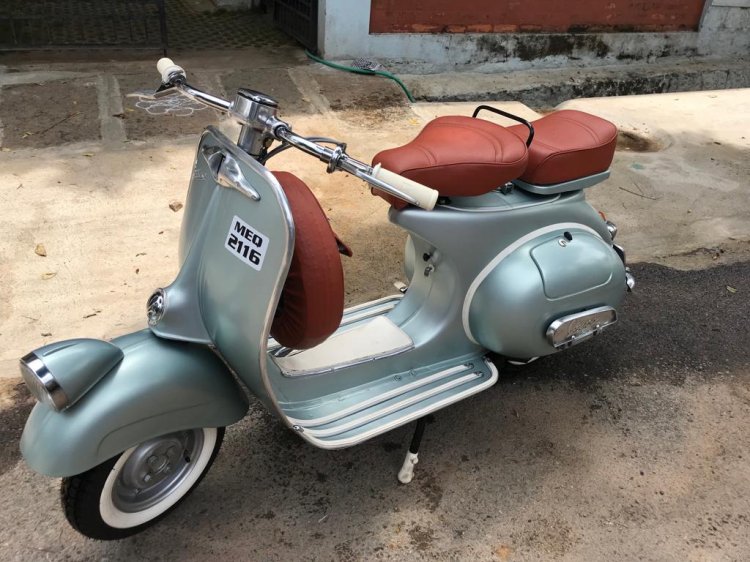 Also read: 1964 Vespa owned by IAB reader neatly restored to original specification
Our reader purchased the Vespa for INR 18,000 and spent another INR 40,000 restoring the scooter. He had purchased the Douglas kit quite before the Vespa made it to his garage. The aim was to make the scooter replicate the styling of Douglas Vespa and in the process, not only did Deena manage to create a perfect doppelganger, he managed to make his scooter highly attractive with tan leather saddle covers.
The fascia features a fender-mounted headlight while a Vespa 150 logo, finished in chrome, sits on the right side of the apron. The Piaggio logo in the centre of the apron is accompanied by a chrome garnish. The apron is followed by a chrome-finished handlebar with a single-pod instrument console in the centre.
The area behind the apron, right below the cockpit, holds the spare wheel. Instead of using a regular cover for the spare, R Deena made tan leather coat with diamond pattern stitching, giving the scooter an appealing look. The same coloured covers can be seen on the rider and pillion seat. The rear features a compact tail light with chrome surround, followed by the number plate and chrome garnish at the end. Another chrome finished highlight is the pillion footrest.
The contrasting colour for the stripes on the footboard and on the side panels complements the base paint. The white walls for the tyres make it picture perfect retro, and there is not a single thing that we would want to change about the scooter, except for its location. We would love to have something as achingly beautiful as this Vespa in our garage... nay... in our living room.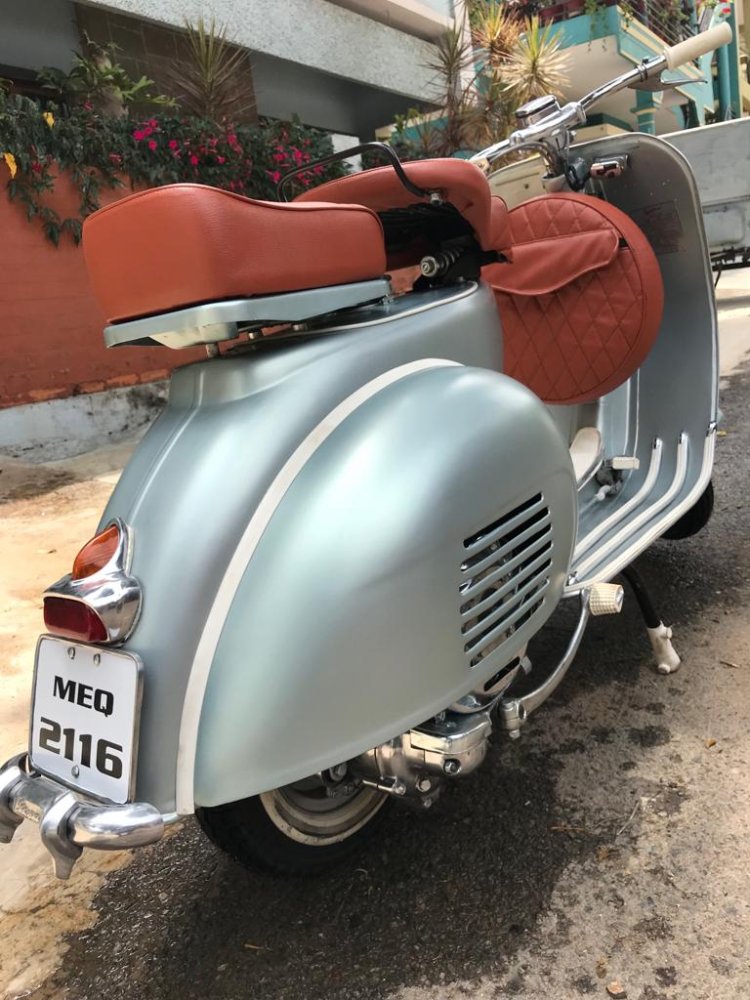 Also read: IAB reader shares his experience with a restored Rajdoot GTS (Bobby)
Do you think your retro bike looks as appealing as this Vespa? Send photos and details of your restored beauty to suvil@indianautosblog.com.