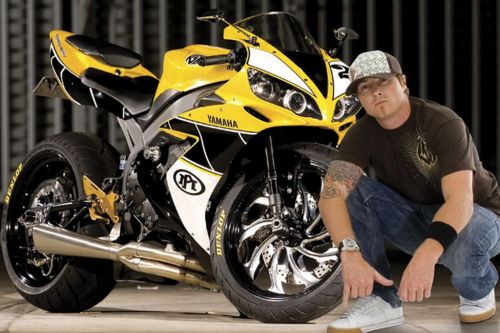 Bestow an exceptional artist with a vacant canvas and a few hours time, and nothing less than magic will he perform.
Give him your torso and some ink, he'll cause something come to life. Provide him a wall, he'll fill it with letters and numbers which appear to peek out of it. Give him a motorcycle..err..motorcycle? Yeah, One artist has proved that any object is 'OK' to showcase and project skill and capability, which for these guys, have no upper limit.
Roland Sands has performed what we call 'a stunning act'. After having taken a stock Yamaha R1, he adds a host of specially fabricated parts and colors to make it look like a Yamaha from the middle of Hell. Custom wheels, abruptly ending exhaust pipes, never ending swing arm, V-shaped rider seat (each arm of the V should support each of ur ;) ), wacky tail lamp, littler mirrors and a black+yellow paint scheme masses to one matchless concept. We haven't heard anything officially from Yamaha, but we would be surprised if they settle for saying anything other than 'awesome!'
Smaller mirrors and the removal of front disc brake might render this bike useless on the road, but this will earn fans in the display area of a car show, no doubt. We salute Roland Sands Design and anticipate to see a lot more bikes going through his imagination and coming out as mind-boggling masterpieces into the real world.
IAB's Tip to Roland- Take a look at the Bajaj Pulsar 220! A universe of modifications is possible
Source- Two wheels Blog