It should come as no surprise to regular IAB fans that Mercedes is planning to give the E-Class a facelift in 2013. Many test mules have been spotted with camouflaged front fascia doing their routine testing.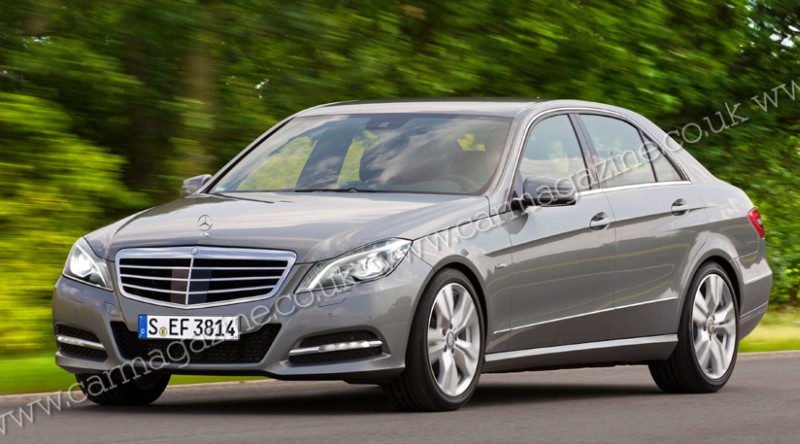 However, thanks to CAR Magazine, we have some juicy scoops on what to expect from the next generation E-Class.
2013 Mercedes E class will be a comprehensive facelift and not just a nip and tuck
Mercedes designers are planning a brand-new front and back end along with  restyled rear side panels.
The facelifted model will only share the roof, the front doors and the windows with the outgoing model.
Single-piece multi-functional headlamp units will replace the quad headlamps
If you thought the S-Class is packed with most number of tech goodies, wait till you hear this list:
Improved night assistant will not only inform about cyclists and pedestrians but will also warn of crossing wild animals         
Dynamic light assistant will incorporate fast moving multi-directional LED pixels which automatically avoid oncoming traffic       
Intelligent lane assistant will monitor your own lane behavior and will also supervises oncoming traffic to issue an early collision warning       
Intelligent brake assistant is a radar-based cruise control keeps an eye on the vehicle in front and - as a world first - on cross traffic 
Congestion assistant will automatically follows the vehicle in front at speeds of up to 40mph even if the route involves direction and lane changes 
Magic ride control scans the road surface and makes the black box adjust damper action accordingly       
Head-up display will incorporate state-of-the-art graphics with multi-color imaging
The entry level E200 will use a Renault-sourced 1.6-liter four-cylinder engine producing 156bhp
The E350 is expected to house a 3.5-liter V6 unit producing 333bhp
The E500 will get a turbocharged 4.6-litre motor generating 435bhp and 516lb ft.
E63 AMG will keep its V8 but will be tuned to produce around 537bhp
Head over to CAR Magazine for a detailed report. Trust me, you don't want to miss this one!