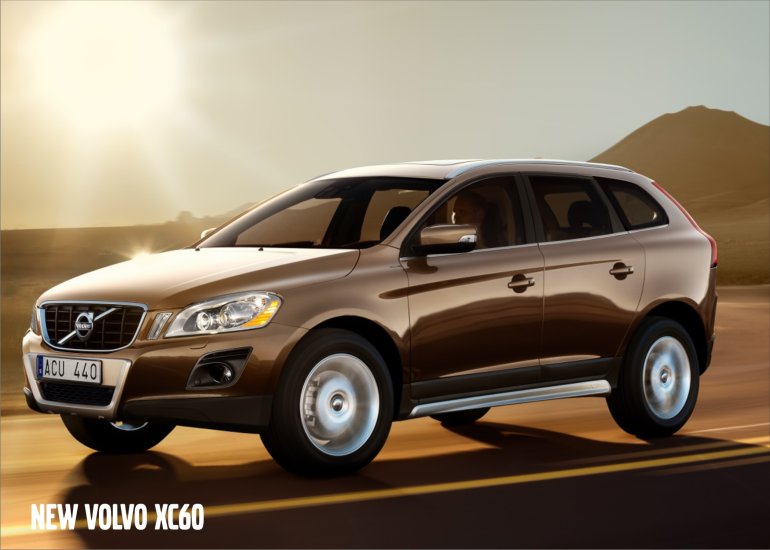 you read it first on Indian Autos Blog
Twin-turbo D5 diesel manages to coax out 205hp and still deliver 13.8kmpl.
Laser assisted braking system, road stability control and traction control are some of the standard features.
Collision warning, blind spot assist are among the optional features
Reliance provides you 60% insurance rebate. Volvo Auto India provides you with 2 years free service or 60k kilometers (whichever comes first)
New dealer appointed in Coimbatore; Ahmedabad, Jaipur to follow by the end of year.
Healthy number of bookings evenly spread out, and the company is confident about its path.
Press Release
With class – leading technology, Volvo re-defines compact luxury SUV segment with launch of 'Volvo XC60'
Volvo XC60 debuts at Rs. 39.5 lakhs Ex-showroom
First batch already booked ahead of its launch
New Delhi, November 24th, 2010: In the picturesque locale of Lavasa, Volvo Auto India today crafted a new definition of luxury by unveiling the much awaited Volvo XC60. With state-of-the-art technology, unmatched combination of power and style - the Volvo XC60 is all set to create a new benchmark in the compact luxury SUV segment in India.
Text Box: Highlights Laser Assisted Automatic Braking Four-C Active Chassis Haldex AWD with Instant Traction Dynamic Stability & Traction Control D5 Twin-Turbo Diesel - 205hp/420Nm 9 Exciting colours Plush twin-tone leather interiors Turn with Steering Lights Hill Descent Control 230mm Ground Clearance
Powered by the high performance latest generation D5 Twin-Turbo diesel engine, Volvo XC60 will be the only SUV in its category to offer unique features such as Laser Assisted Automatic Braking (City Safety), Turn with Steering Lights (Active Bending Lights), Haldex AWD (All Wheel Drive) with Instant TractionTM, Continuously Controlled Chassis Concept (FOUR-C) and Power Tailgate amongst others.
Speaking at the launch ceremony, Paul de Voijs, Managing Director, Volvo Auto India, said, "Volvo XC60 is a perfect embodiment of our brand's core attributes of safety, comfort, quality, Scandinavian design and innovation. Heart-stopping looks coupled with innovative technology and off-road capabilities, it is a perfect blend of style and practicality. We are confident that in India, Volvo XC60 will give us a competitive edge in its segment."
Priced at Rs. 39.5 Lakhs (Ex-showroom, Delhi) and
Rs. 41.41 lakhs (Ex-Showroom, Mumbai, incl. Octroi), the Volvo XC60 will be retailed through Volvo's dealerships across the country starting November 2010.
"The pre-bookings of the first batch of XC60 bears testimony to the faith our customers have for the Volvo brand. The launch today further reinstates our commitment to provide best-in-class quality and technology to our customers in India", Mr. de Voijs further added.
In India Volvo XC60 will be imported as CBU (Completely Built Units) from the company's manufacturing facility in Ghent, Belgium.
Globally Volvo XC60 has been a great success and has won over 22 coveted awards including – United States: International Truck of the Year; UK: SUV of the Year; Australia: Best SUV over $40,000; Germany: Paul Pietsch Award for City Safety; Germany: Autoflotte Award; France: Innovation for Safety Award; Russia:"Golden Klaxon", the best compact crossover; Portugal: Innovation & Technology Award; Malaysia: Car of the Year with special mention of safety award amongst others.
MODERN SCANDINAVIAN DESIGN THAT'S DISTINCTLY VOLVO
The stunning new XC60 signals the onset of a new era of modern Scandinavian design. The core design DNA is strikingly simple, yet unique. Its muscular shoulder-line smoothly blends into a curvaceous rear. The rear tail lamp cluster with micro-optics and LED technology, adds sheer distinctiveness and expression to its visual appeal.
Embedded in the trapezoidal grille, the large iron mark provides a distinctive character to the SUV. The new angled position lights on both sides of the grille together with the headlamps and the sweeping front wings, radiate an aggressive stance that also emphasizes the bonnet's classic V-shape.
The interior of the XC60 is driver oriented and designed to create a dynamic feel. The lines on panels and surfaces connect different interior panels with each other to create a harmonious style.
INNOVATIVE & CLASS – LEADING TECHNOLOGY
§ Laser Assisted Automatic Braking (City Safety) - Unique in its segment
§ Hill Descent Control (HDC) for steep inclines (even at 45 degree inclines) - the only SUV in its segment to have this feature working on reverse gear as well
§ Turn with Steering lights (Active Bending Lights) - Unique in its segment
§ Power tailgate – one touch opening and closing – Unique in its segment
§ Dynamic Stability and Traction Control (DSTC)
§ Roll Stability Control (RSC) – Active stability system
§ Advanced braking technologies - Adaptive Brake Lights, Ready Alert brakes; Hydraulic brake assist; ABS with Electronic brake force distribution
§ Protective Advanced safety technologies – Side Impact Protection system (SIPS); Whiplash Protection System (WHIPS); Roll-over Protection System (ROPS); 2-stage airbags; Seatbelt pre-tentioners; Inflatable Curtain (IC); Side Airbags
HIGH STANDARDS OF RIDE COMFORT
§ Continuously Controlled Chassis Concept (FOUR-C | Comfort, Sport and Advanced) – Unique in its segment
§ Haldex AWD (All Wheel Drive) with Instant TractionTM
§ 230mm Ground Clearance
D5 TWIN TURBO – DIESEL ENGINE
205 hp and 420 Nm - With the latest Twin Turbo and Peizo high-pressure technology, the inspiring five-cylinder state -of-art is high on performance and low on fuel consumption. A maintenance free diesel particulate filter effectively reduces soot particles in exhaust gases upto 95% (and advanced emission control contributes to low nitrogen oxide level). The D5 complies with Bharat IV emission standards.
Official Mileage – 13.8 kmpl
STYLISH AND LUXURIOUS INTERIORS
§ Two – tone leather interiors with a unique X theme on the seats
§ Ergonomically designed seats with pronounced side supports and luxurious padding - both front and rear with integrated seatbelts
§ Unique floating centre console (a Volvo trademark) slightly angled towards the driver to enhance driver dynamics
§ Illuminated lockable glove box
§ Flat folding three-section rear seat (40/20/40 split)
§ High quality textile/ leather upholstery
§ Leather - clad/ classic wood steering wheels
OPTIONAL FEATURES
§ Collision Warning with Auto Brake alerts the driver if the distance to a vehicle ahead suddenly decreases. This system gives the driver a fair chance to mitigate a collision – Unique in its segment
§ Adaptive Cruise Control also in slow queues - which helps the driver to maintain a safe distance with the vehicle in front at speeds over 30kmph - Unique in its segment
§ A range of other features
o Driver Alert Control is a unique technology to detect and alert tired and distracted drivers
o Blind Spot Information System (BLIS) helps detect vehicles in the offset rear blind spot on both sides of the SUV
o Lane Departure Warning alerts the driver if the SUV runs across the lane markers without the turn indicator being used
§ Premium Sound with Dolby Pro-logic II Dynaudio | USB and iPod Music Interface | Bluetooth hands-free system
INTERIOR AND EXTERIOR ACCESSORIES
§ Front and Rear Park Assist Camera
§ Rear Seat Entertainment (RSE) - dual 7 inch - screens with dual DVD
§ Satellite Navigation System
§ 19" Alloy wheels
§ Running boards smoothly integrated with the sills
§ Side cuff plate - stylish matte aluminium finish
§ Front and rear skid plates