Note: This story is an advertorial.
New Delhi, November 9: Donning more than one hat has never been easy for race drivers, but Vishnu Prasad is on a roll this season and Sunday was no different when he drove flawlessly to win two races in the JK Racing India Series to be back in contention, in the 17th JK Tyre Racing championship at the Buddh International Circuit here on Sunday.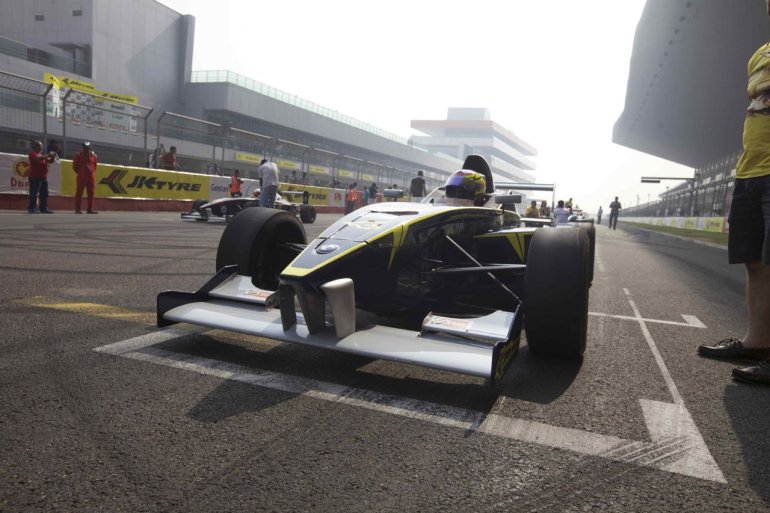 Vishnu, who suffered on Saturday after making a jumpstart, was back to his best as he overtook the pole-sitter and Race 1 winner Akhil Rabindra of Bangalore early in the race before stamping his class to win in the morning.
The versatile driver has been adjusting to three different cockpits this season as Vishnu aims to become the champion racing driver in the domestic circuit with three crowns.
Vishnu has been driving in the JK Racing India Series, Formula LGB4 and the Senior Max Category in the JK Tyre –FMSCI National Rotax Max Karting Championship and is in line for title in all the championships.
"I am trying to make my mark. Money is a big factor which prevents me from going abroad so I want to win here and impress upon sponsors to further my career," said Vishnu.
After an uneventful start to the FB02 race, Rabindra fell behind midway through before fast-pacing Vishnu caught up with those ahead and pushed to the front. He clocked 22 minutes 00.295 seconds to win the race ahead of Mumbai's Rahil Noorani, who was home in 22:14.946. Rabindra ended third with a timing of 22:18.461.
In the third race of the FB02 category, Vishnu raced ahead of Rabindra and maintained distance to eventually win by a difference of 7.454 seconds. Ananth Shanmugam eventually finished third.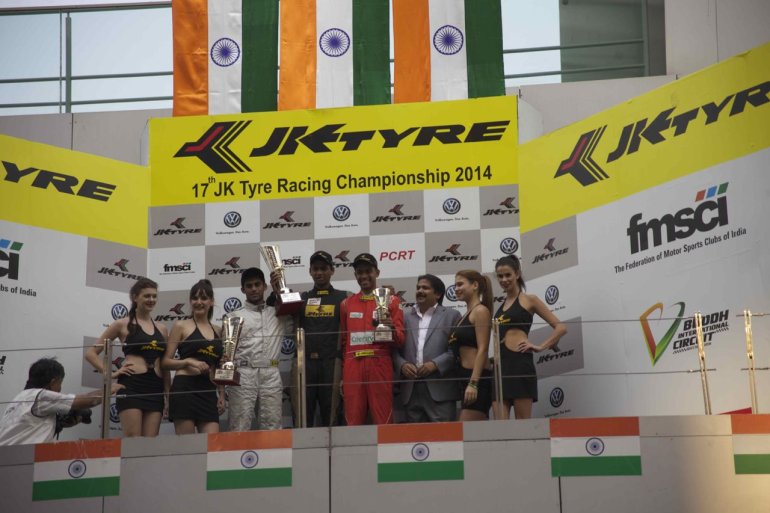 Diljith wins in Formula LGB
Vishnu was at the wheels in the much smaller and low powered Formula LGB4 cars, but his dream of making it to the No 1 spot on the podium failed as TS Diljith of Dark Don Racing raced to the chequered flag.
It was second victory in three races for Diljith that should give him a good cushion to push for the championship title during the Final round of the JK Tyre Racing championship in the second week of December.
Diljith took the chequered flag in 20 minutes 02.245 seconds, leaving Vishnu 0.329 seconds behind. Raghul Rangaswamy finished third with a timing of 20:02.912.
"Today's race was pretty good as I started sixth on the grid and I got a decent start. I thought I would follow Chittesh (Mandody) from the start itself. But I think there was some problem with his car or something and he was falling behind and I was far faster than him," said Diljith after his win.
"There were five cars ahead of him and I was able to overtake including my team mate Sudarshana Rao. But then I saw Vishnu flying away and as you know once he flies, it is difficult to catch him. Thankfully I went ahead of him as it was a very tight race. Also, I would like to thank my mechanics as I was able to drive faster in the corners than yesterday," he added.
Bike show gets huge response
The newly introduced JK Super Bikes Cup received a resounding response with the grandstand getting choc-a-bloc to watch riders perform stunts and tricks besides racing the track.
Delhi boy Kulwant Singh Monty got the best finish clocking 16:55.583. Gurvinder Singh and Bhupinder Singh followed Kulwant into the podium by finishing 2nd and 3rd showcasing their skills in 1000CC engine bikes.
Results:
Round-3:
JK Racing India Series FB02 (Race 2): 1. Vishnu Prasad (Chennai) 22:00.295, 2. Rahil Noorani (Mumbai) 22:14.946, 3. Akhil Rabindra (Bangalore) 22:18.461; 4. Sandeep Kumar (Chennai) 22:19.893; 5. Ananth Shanmugam (Bangalore) 22:20.469.
JK Racing India Series FB02 (Race 3): 1. Vishnu Prasad (Chennai) 21:51.177, 2. Akhil Rabindra (Bangalore) 21:58.631; 3. Ananth Shanmugam (Bangalore) 21:59.815; 4. Nayan Chatterjee (Mumbai) 22.09.303; 5. Sandeep Kumar (Chennai) 22:10.497
Formula LGB 4 (Race 3): 1. Diljith TS (Dark Don) 20:02.245, 2. Vishnu Prasad (Meco Racing) 20:02.574, 3. Raghul Rangaswamy (Meco Racing) 20:02.912, 4. Ameya Bafna (Rayo Racing) 20:05.763, 5. Chittesh S Mandody (Meco Racing) 20:06.172.
VW Polo R Cup (Race-2): 1. Dylan Pereira (Poland) 22:11.363, 2. Karminder Pal Singh (New Delhi) 22:14.271, 3. Karthik Tharani (Chennai) 22:16.562, 4. Gosia Rdest (Poland) 22:17.416, 5. Bonnie Thomas 22:19.586 (Thodupuzha)
JK Super Bikes Cup: Kulwant Singh Monty- 16:55.583, Gurvinder Singh- 17:01.653, Bhupinder Singh- 17:03.102, Manmeet Singh- 17:55.816, Aashir Agarwal:- 18:16.258.