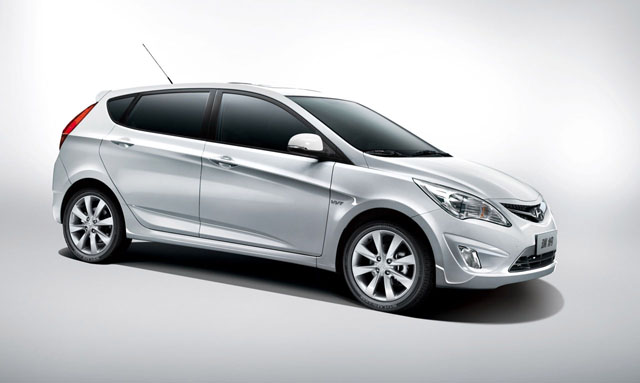 By Kaustubh Shinde
Previously we have shown you the spy pics of the Verna RB Hatchback. And we are glad to inform you that the Verna hatchback has been unveiled at the Guangzhou Motor Show a couple of days back. The Verna hatch will measure in at (LxWxH) 4085 x 1700 x 1460mm and will have a wheelbase of 2570mm. The hatch is exactly identical to the sedan with some really aggressive lines through the body and a very stylish rear.
On the engine front, this car may be powered by 2 engines - A 1.4 liter petrol & 1.6 liter petrol with outputs 107 BHP & 122 BHP respectively. The cog swapping duties will be taken care of by a 5 speed gearbox and also a 4 speed automatic gearbox.
As of now this car will only be on sale in the Chinese market. But if the past is any witness, this car cannot be completely ruled out for India.
Hyundai is going to manufacture the RB sedan in India next year and it could consider the hatchback for a position above the i20. Hyundai hasn't been able to bring the i30 to India due to high costs, either through CKD or CBU. The Verna hatch on the other hand can benefit from the sedan's localization and go on to repeat the success of the i20 if it delivers in all fronts.
Since reworking this car to bring it under the 4-meter length barrier will not work, Hyundai must use the hatch's dimensions to its strength. It should offer the same 1.6-liter diesel engine from the Verna on the hatch. Provide an AT with diesel, which isn't available on the i20 and offer the 1.4-liter petrol with the manual transmission on the hatch, which again isn't on the i20's menu. Hyundai can reposition the i20 range to make more room for the RB hatch. Hyundai will not only prove that it can sell two big hatchbacks in India, but if done right a 8+ lakh rupee hatch can do well in India.
Bringing the same car over and above the i20 and pitting it against the Jazz can be an option. However, considering Honda is struggling with Jazz sales numbers, Hyundai will be skeptical to take that long shot. Also, Hyundai should now focus on the rival of brands like Accent, Santro and Sonata.
Hyundai will know that the Jazz's failure was not completely due to its pricing. For 8 lakh rupees, it did not offer the level of equipment or performance that it should have. If Hyundai puts its diesel engines to good effect, offer a lot of comfort and equipment, and market it seriously, then the RB hatch can prove close-minded auto pundits wrong.