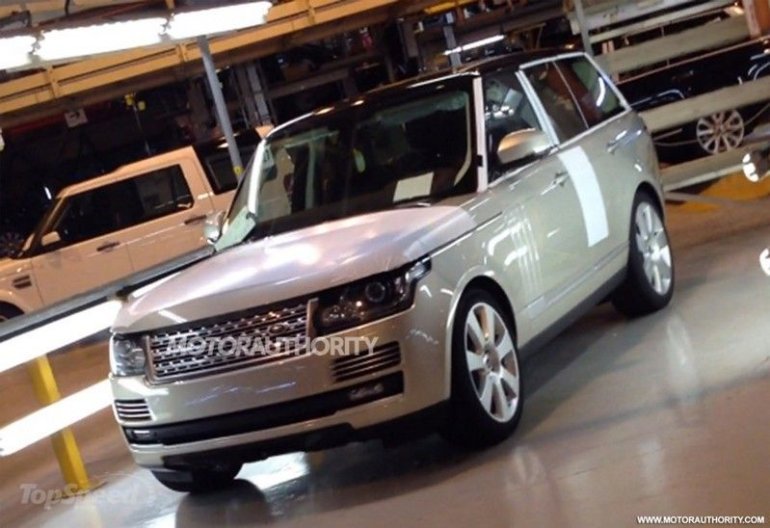 Land Rover went from pillar to post to make sure that the upcoming Range Rover is hidden away from prying eyes. Be it the weird body moldings on the test mules or the military camouflage, the Range Rover was successfully kept under wraps for a very long time. So many renderings hit the web claiming to be 'near accurate' ones but none had a clue.
But in the land of internet, nothing can be hidden for long time. A new spy pic has hit the net showing an uncamouflaged Range Rover on an assembly line. So congratulations to the guys from PS-Garage whose rendering was the closest to the real deal.
The 2013 Range Rover (codenamed L405) will come with an all new front fascia featuring:
New headlamps
New chrome grill
New front bumper
Revised air dams
The biggest highlight of the all new Range Rover, the fifth of its generation, is the lightweight rivet-bonded aluminum chassis. Thanks to this chassis, the new Range Rover is 40% lighter than the predecessor (around 500 kgs less). We expect considerable benefits in performance, economy and emissions due to this weight loss.
A range of V6/V8 petrol and diesel will find their home under the bonnet. Land Rover is also contemplating on a  hybrid version of the 2013 Range Rover which will have a 3.0-liter TDV6 diesel with an electric motor mated to an eight-speed ZF automatic transmission. Range Rover is expected 14 kmpl from the hybrid version.
The 2013 Range Rover will make its international debut at the Paris Auto Show in coming September. We will get you all the details from launch. So stay tuned!
[Source: Topspeed.com]