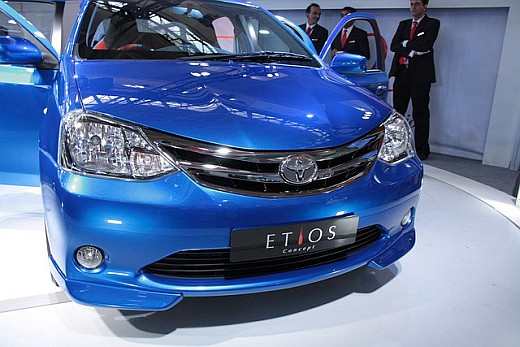 By Ragav Ramesh
A few months back when we got in touch with Toyota Kirloskar Motor's top brass, we learned there were no plans for hybrid powertrain for Etios. Now though, the company has re-looked into that option is keeping the hybrid hall door wide open.
Toyota has, very keen to capture the hybrid car market in India, is thinking one step ahead by exploring options to launch the first hybrid small car using their much awaited Etios which debuts this year end.
Following the launch of Toyota Prius hybrid in the Indian market recently, they are quite enthusiastic to see the outcome of a hybrid Etios, which will be extremely fuel-efficient, the keyword for small cars in India. India is still to deploy any infrastructure for electric vehicles. Forget electricity for vehicles, many villages in India are yet to see a tungsten bulb. The petrol-electric combine is the best bet, for auto manufacturers, consumers and the government in the immediate future.
Toyota Motor Asia Pacific President Mitsuhiro Sonoda -
We are looking at every possible alternative to launch Etios, apart from diesel and petrol variant, we will study the market and demand for launching the car in other fuel options (LPG and CNG) and hybrid mode. We'll have to discuss the issue of launching with other fuel options with the Government. It will also depend on the availability of infrastructure in the country. We will decide at the appropriate time
Toyota is a global leader in hybrid technology and has introduced path-breaking cars like the Prius, SAI and Camry hybrid. With such expertise in hybrid cars, the next step for Toyota will be to install them in smaller cars which rely on fuel efficiency for their existence. The competition in India is only increasing and the merits of hybrid technology will give Toyota an edge.
Where India is looked upon as the small car hub of the world, Toyota's smart move to bring in their hybrid technology in the Indian small car bazaar is going to be a very wise decision, considering the conservative Indian buyers who would be looking for fuel efficient small cars. Even though the key to its success would be purely based on pricing due to the heavy alternatives in the small car space readily available, it all comes down to the market reactions for the Etios as a car. We will have to wait and watch how Toyota is going to play its cards.
Source - Economic Times