To compete with next generation BMW 7 Series and current Mercedes S-Class.
Audi's flagship model - the A8 - will be jumping into the next generation in 2017, featuring a new design, futuristic driving technologies and a fuel-efficient powertrain. Audi will have to cram as much creature comforts and technology as it can if it needs to stand a chance against luxury limo heavyweights like the next-generation BMW 7-Series (due for a 2015 IAA debut) and the current W222 Mercedes S-Class.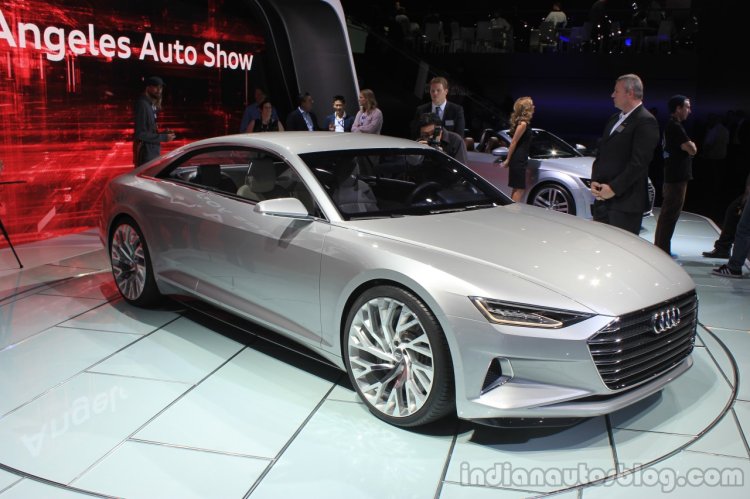 The new Audi A8 will be the first model to draw influence from the Prologue Concept unveiled at the 2014 Los Angeles Motor Show. Expect a wide-mouthed single frame 6-point Audi grille flanked by standard LED or optional laser headlights, and a simple lower fascia with large intakes on either side.
If it strictly follows the design philosophy of the Prologue concept, the side profile will be kept simple with a shoulder line and a characteristic slash across the profile, while the rear could get a sleek set of organic LED taillamps and a rear bumper housing large exhaust tips.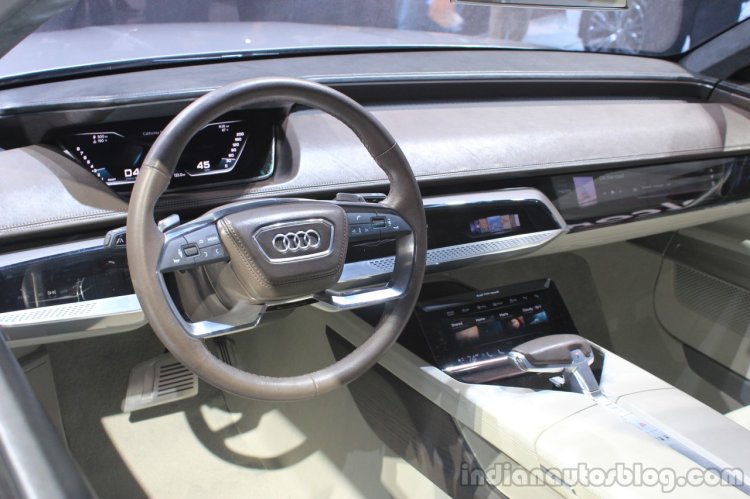 Following Audi's latest trend, the interior will be kept simple by reducing the button count and incorporating gesture controls into Audi's next generation MMI infotainment system to control functions like answering calls, controlling cabin temperature, increasing/decreasing audio volume.
Like the 2016 Audi Q7, the 2017 Audi A8 will feature the best iteration of Audi's Virtual Cockpit display that works in conjunction with the MMI infotainment system. Other than displaying the standard speedometer and tachometer, the 3D-rich Virtual Cockpit can display map routes in full screen, speed limits of registered highways, important messages and infotainment functions.
Audi's Head of Electronics, Ricky Hudi told Auto Express that the 2018 A8 will make use of organic LEDs, which allow "new forms of expression and differentiation". The main use of the new lighting technology is to power the car's digital displays. Another feature that could set the A8 apart is Audi's revolutionary Piloted Driving, which was previewed by the A7 Piloted Driving Concept (featured in video below). It integrates long-range radar sensors, 12 ultrasonic sensors, laser scanners and hi-resolution video cameras that constantly monitors the car's surroundings, feeding information required to guide the car safely through traffic jams at up to speeds of 60 kph. It could also offer some form of self-parking, where occupants step out and the car parks by itself in the determined space.
[Can't see the video? Head to Youtube]
Also Read: 2016 Audi A4 starts testing in India
Dr Ulrich Hackenberg, Audi's Head of R&D, has confirmed that the A8's powertrain will feature electric turbocharging for the first time, since it was previewed in the Audi RS5 TDI concept. It will shed around 200 kg thanks to VAG's new MLB platform, and source power from a revised range of V6 and V8 engines. Also on the cards is a plug-in hybrid under Audi's e-tron moniker.
Audi Prologue Concept - Image Gallery
[Source: Auto Express]