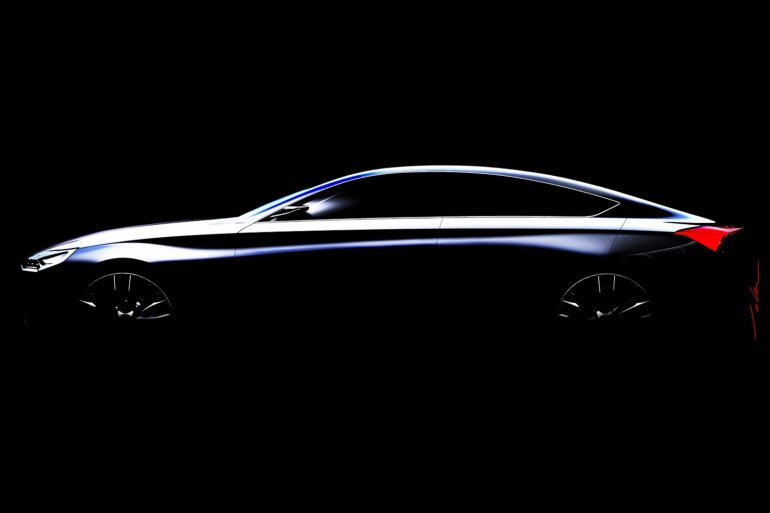 The NAIAS (2013 Detroit Auto Show) is almost here and Hyundai has just revealed a teaser image of the HCD-14 Concept.
Hyundai/Kia are on the cusp of transforming themselves into luxury car manufacturers, with hopes of challenging BMW, Mercedes and Audi with their sedans and SUVs.
Previous attempts such as the Hyundai Equus and Kia Quoris are have excited the market. The new Storm Edge design philosophy on the Santa Fe is much appreciated by the connoisseurs while experts believe that improved next generation Hyundais/Kias are definitely cars that the Germans have to watch out for.
The Hyundai HCD-14 is definitely a step in that very direction. HCD stands for Hyundai California Design where it was probably designed. The teaser image reveals an ultra-chic four-door sedan with a fastback design. The design is very similar to the Audi A7 - a four door sedan that is raking design accolades across the world.
Hyundai says that the Concept HCD-14 will give us a glimpse into the future of Hyundai's premium vehicle design, advanced 3-D gesture-based technology controls and spirited driving dynamics.
International automotive media speculates that the HCD-14 is a precursor to the next generation Hyundai Genesis. The next-gen Genesis will be a complete overhaul for the brand. It is expected to be powered by a twin-turbocharged V6 mated to a high tech 10-speed automatic transmission sending power to all four wheels.
We will have to wait till Jan 14 to find out more about this mysterious sedan.